Nine To Noon for Tuesday 30 September 2014
09:05 Young journalists in Hong Kong on Occupy protests
It's being called the umbrella revolution - extraordinary scenes on the streets of Hong Kong, as young pro-democracy demonstrators face off against riot police armed with teargas and pepper spray. Tens of thousands of people have occupied part of the business quarter for a second night. The demonstrators object to China vetting who can stand as the city's chief executive in elections in 2017. Kathryn Ryan speaks to local Hong Kong journalist Isabel Wong, and Erin Hale, a Hong Kong-based freelance journalist, who writes for The Guardian.
09:20 Decision on Wellington super-city due
The Local Government Commission is expected to release its decision soon on whether the Wellington region's eight councils should be amalgamated and to what extent. John Shewan is from the pro-amalgamation group, Better Wellington, and Phillip Barry is a director for economic advisory firm TDB, which provided advice to the Royal Commission on Auckland - and more recently the three Wairarapa Councils and Hutt City - on the economics of amalgamation.
09:45 US correspondent Luiza Savage
10:05 Bobby Henline
Bobby Henline is an Iraq War veteran and burn survivor, turned comedian, who has made his horrific injuries a part of his comedy. He was serving in his fourth tour in Iraq in 2007 when his humvee was hit by a roadside bomb just north of Bagdad. Of the five men in the vehicle, he was the only survivor. More than 38 per cent of his body was burned, his head burned to the skull. He spent six months in hospital, fighting for his life, and within two years his left hand was amputated. Bobby has had surgery more than 40 times. But one thing the explosion didn't destroy was his sense of humor, which he found was a way to reach out to people who found his physical disfigurement hard to handle. At the urging of his Occupational Therapist, Bobby tried stand-up comedy at an open mic night in Los Angeles, and his career as a comedian began.
10:35 Book review: Edge of Eternity by Ken Follett 
Gina Rogers reviews Edge of Eternity by Ken Follett.
10:45 The Reading: 'My Brother's War' by David Hill
One brother has enlisted, the other is a conscientious objector. Both end up on the bloody battlefields of France (2 of 10, RNZ)
11:05 Business commentator Rod Oram
Rod Oram takes a look at the falling dollar and Fonterra's results.
11:30 Fishing stories with Dave Witherow
Angler Dave Witherow with fishing stories drawn from over 30 years with a rod in his hand in pursuit of elusive trout. He's spent the best part of his life fishing the rivers of New Zealand.He will tell tales of fellow anglers, the camaraderie of getting away from it all. He has a book out – Open Season – An Angler's Life in New Zealand. During his fishing pursuits Dave wore-out one small plane and built another, in order to visit secluded river spots. Dave Witherow is a zoologist, pilot, writer and raconteur, he was born in Northern Ireland, and emigrated to New Zealand in 1971, after living for a time in Canada and Australia. He now lives in Balfour, close to the Mataura River. He writes a regular column for Fish and Game magazine.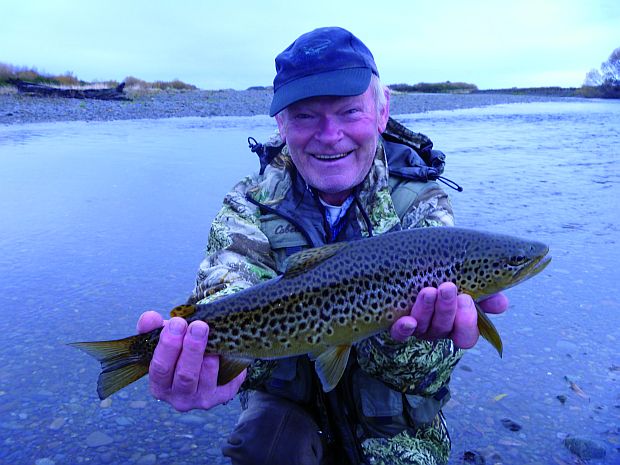 11:45 Media commentator Gavin Ellis
Gavin Ellis touches on coverage of the Labour leadership story, and over-the-top reporting of George Clooney's nuptials.
Music played in this show
Artist: Etta James
Song: Trust In Me
Composer: Ager / Schwartz / Weaver
Album: At Last
Label: Chess
Broadcast time: 09:23
Artist: Breaks Co-Op
Song: Moment In Time
Composer: Clarke / Lovegrove
Album: Sounds Familiar
Label: Warner
Broadcast time: 10:35am
Artist: Solomon Burke
Song: Maggie's Farm
Composer: Dylan
Album: n/a
Label: Ace
Broadcast time: 10:44am