Nine To Noon for Tuesday 12 August 2014
09:05 Turmoil and humanitarian crisis in Iraq
Sami Rasouli is the director and founder of an Iraqi peacemaking NGO.
09:15 Turmoil in Iraqi politics
John B Alterman is the Director, Middle East Program for the Center for Strategic and International Studies in Washington DC.
09:30 Scottish independence referendum
Scottish author and journalist, Iain Macwhirter who helped spearhead the campaign for Scotland's independence  - on his hopes for next month's referendum.
09:45 US correspondent Jack Hitt
10:05 Painter, sculptor and multimedia artist Michel Tuffery
Michel Tuffery on expressing his pacific island heritage through his work.
10:35 Book review: The Auckland Book by Nigel Beckford
Reviewed by Graham Beattie, published by Fitzbeck  RRP$50.00
10:45 The Reading: The Below Country by Nicholas Edlin
Mae discovers the truth about what her father did in South Korea in the 1950s. (Part 4 of 12)
11:05 Business commentator Rod Oram
Discusses the fall in unemployment and the likely impact on wages.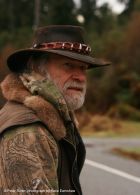 11:20 Country lessons and bush tales
Pete the Bushman with tales of his life as a hunter gatherer in Westland, owning his own town, and new book: Pete the Bushman. Hunting tales and back-country lessons from a wild West Coaster.
11:45 Media commentator Gavin Ellis
Discusses the high court battle over TV3's political debate.