Nine To Noon for Friday 11 July 2014
09:05 The latest on the storm and its impact on the Far North
Alistair Wells is the Civil Defence Controller for the Far North District Council.
09:15 Help for family and friends worried about young people
Moira Clunie is the project manager for Common Ground, a new project that aims to ensure that parents, family, whānau and friends have access to quality, but easily understood information on young people's mental health and wellbeing.
09:30 How are new words selected to enter the Dictionary?
Peter Sokolowski is the Editor at Large at Merriam-Webster. He's defined and edited entries for many of the company's dictionaries, he also serves as pronouncer for spelling bees around the world, appears in the Ask the Editor videos at M-W.com, and was named among TIME's 140 Best Twitter Feeds of 2013.
09:45 Asia correspondent Jamil Anderlini
10:05 Artist Molly Crabapple on drawing Guantanamo Bay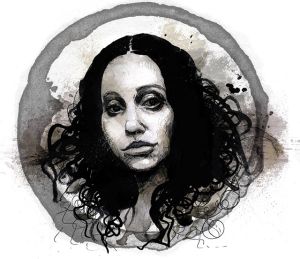 Molly Crabapple is an artist and writer in New York. She is the fourth artist in the last decade to be allowed to visit and draw the detention facility, and its staff and inmates, at Guantanamo Bay, and has recently drawn pictures of residents at an internal displacement camp in Syria. Her 2013 solo exhibition, Shell Game, led to her being called "Occupy [Wall Street]'s greatest artist" by Rolling Stone, and "an emblem of the way that art could break out of the gilded gallery" by The New Republic. Crabapple is a columnist for VICE, and has written for The New York Times, Newsweek, The Paris Review, CNN, The Guardian, The Daily Beast, Vanity Fair, and Der Spiegel. Her illustrated memoir, Drawing Blood will be published by Harper Collins in 2015. She has also had an acclaimed career as a burlesque artist and model, and art educator. Follow Molly on Twitter.
Gallery: Molly Crabapple's art from Guantanamo Bay.
10:30 John McIntrye reviews new children's books
Project Huia by Des Hunt, published by Scholastic, ISBN 978-1-77543-176-3
Monkey Boy by Donovan Bixley, published by Scholastic, ISBN 978-177543-186-2
Osbert The Avenger by Christopher William Hill, published by Orchard Books, ISBN 978-1-40831-455-5
10:45 The Reading: The ACB with Honora Lee by Kate De Goldi
Based on her own family's experiences of dementia, Kate de Goldi has created a warm quirky tale about the particular special alliance between the young and the very old (5 of 5, RNZ)
11:05 New music with Grant Smithies
11:30 Sports commentator Brendan Telfer
What to look forward to from the Football World Cup's final days.
11:45 The week that was with Radar and Irene Pink
Music played in this show
Artist: Lew Pryme
Song: Gracious Lady (Alice Dee)
Comp: B. Peterson
Album: A Day In My Mind's Mind Vol 4, Tk 20    
Label: Ode
Artist: Doprah
Song: Stranger People
Comp: Steven Marr, Indira Force.
Album: Doprah E.P.   
Label: Arch Hill
Artist: Doprah
Song: Whatever You Want
Comp: Steven Marr, Indira Force.
Album: Doprah E.P.   
Label: Arch Hill
Artist: Mr Scruff
Song: What
Comp: Andy Carthy
Album: Friendly Bacteria
Label: NinjaTune