Nine To Noon for Monday 26 May 2014
09:05 News and current affairs
09:20 The witty letters to the Queen on life in the House of Commons
Former Labour MP in the Blair government, Janet Anderson on her role as Vice-Chamberlain of the Royal Household, which required her to write a daily message to Her Majesty the Queen on the proceedings in Parliament.
The letters have now been turned into a BBC drama, called With Humble Duty Reports.
09:45 Europe correspondent Seamus Kearney 
10:05 Feature: Graham Charles - white water rafting and wilderness adventures
Graham Charles is a Kiwi adventurer who has travelled to many wild and beautiful places around the globe. Canoeing has featured in his life for three decades and his sporting endeavours - which include skiing, climbing and kayaking, have taken him to Antarctica, Tierra del Fuego and Greenland. He has competed in tough sporting events and is also an outdoors instructor, an adventure guide and survivor of some dangerous situations, all the while capturing his pursuits with a camera. He's just written a book aimed at exploring wilderness adventures in New Zealand called New Zealand Whitewater 5 - 180 great kayaking runs.
10:35 Book review: Eeny Meeny by M J Arlidge
Reviewed by James Elliott, published by Penguin
10:45 The Reading: The Cave of Winds by Elspeth Sandys
Two Kiwi soldiers hide in a mountain cave after Crete has fallen to the Nazis. Two members of the resistance risk all to shelter them as German troops draw ever closer. (Part 1 of 4)
11:05 Politics with Matthew Hooton and Mike Williams
11:30 Japanese food with Sachie Nomura... miso hot pot and miso walnut brownies
Sachie Nomura is a Japanese-born, New Zealand based chef who presents a popular cooking show on TV, named after her own highly successful cooking school, Sachie's Kitchen and a recipe book out of the same name. She was taught to cook by her mother and aunt, and has since developed her own unique form of fusion cuisine.
Recipes:
Goma-ae with beans
Miso Hotpot
Miso Walnut Brownies
11:45 Off the beaten track with Kennedy Warne
Kennedy will be in the crown of a dying kauri that he will be climbing into with a couple of arborists in the Waitakeres. From that lofty perch he will talk to us about kauri dieback disease, one of the deadliest threats facing our native forests, and one of the most difficult to deal with.
Website:
Keep Kauri Standing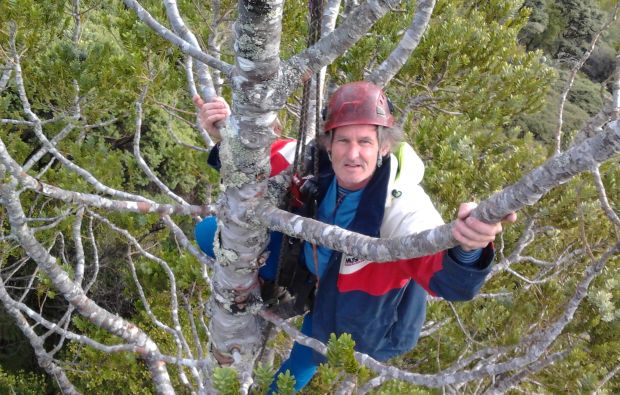 Kennedy Warne in kauri tree in Waitakere Ranges, Photo: Fredrik Hjelm
Music played in this show
Artist: The Black Keys
Song: Gotta Get Away
Composer: Auerbach / Carney
Album: Turn Blue
Label: Nonesuch
Broadcast time: 09:09
Artist: Travelling Wilburys
Song: End Of The Line
Composer: Harrison / Dylan
Album: The Travelling Wilburys
Label: Wilbury
Broadcast time: 09:30
Artist: The Phoenix Foundation
Song: Bob Lennon John Dylan
Composer: Scott / Buda
Album:Tom's Lunch (EP)
Label: NZ On Air
Broadcast time: 10:30am
Artist: Barry Saunders
Song: Going Fishing
Composer: Scott / Buda
Album: Zodiac
Label: Mana
Broadcast time: 10:40am
Artist: Tyra Hammond
Song: Stop Messin' Around
Composer: Hammond / Troy
Album: NZ On Air
Label: NZ On Air
Broadcast time: 11:29