Nine To Noon for Monday 9 December 2013
09:05 Preparations for the memorial service for Nelson Mandela
Mac Maharaj is South African President - Jacob Zuma's spokesman. Mr Maharaj is mourning the passing of his long-time friend and confidante,  Nelson Mandela. He was in jail on Robben Island with  Nelson Mandela and smuggled out part of the manuscript which formed Mr Mandela's memoir - Long Walk to Freedom.
09:15 Preparations for the memorial service for Nelson Mandela
Deborah Patta, correspondent in South Africa.
09:30 The inaugural Child Poverty Monitor
Dr Liz Craig is a Senior Clinical Epidemiologist at the University of Otago.
09:40 All Blacks coach on the team's perfect record this year
All Blacks coach Steve Hansen on achieving the first 100 per cent record by any team in the professional era.
10:05 Big Year interview: Theo Spierings
Theo Spierings, the CEO of Fonterra, New Zealand's largest company. The world's largest dairy exporter was caught up in a botulism false alarm this year that made headlines around the world and damaged its reputation, particularly in China.
10:35 Book review with Rae McGregor
Dust by Patricia Cornwell
Published by Little, Brown
10:45 The Reading: Wulfsyarn - A Mosaic by Phillip Mann
Wilberfoss begins to reveal the nature of the conflict between himself and the Nightingale and tells of the arrival of the giant alien creature, Chi Da. (Part 6 of 10)
11:05 Politics with Matthew Hooton and Mike Williams
11:30 Food - Michael Cooper discuses Fudge
Michael Cooper from Fudge Fresh and Natural has been making fudge and chocolates for over 30 years ago. He uses old family recipes. Each week he sells his sweet treats at the Christchurch Farmers Market - and some retail outlets also stock his products.
Recipes:
Chocolate Based Fudge
Chocolate and Muesli Florentines
Truffles for Christmas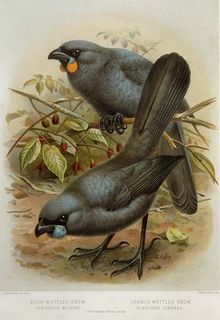 11:45 Off the beaten track with Kennedy Warne
Lost and found.
Right: North Island kokako (blue wattles) and South Island kokako (orange wattles).
Keulemans, John Gerrard, 1842-1912. Keulemans, John Gerrard 1842-1912 :Blue-wattled crow, Glaucopis wilsoni. Orange-wattled crow, Glaucopis cinerea. (Two-thirds natural size). / J. G. Keulemans delt. & lith. [Plate I. 1888].. Buller, Walter Lawry (Sir) 1838-1906 :A history of the birds of New Zealand. 2d ed. London, John van Voorst, 1888.. Ref: PUBL-0012-01. Alexander Turnbull Library, Wellington, New Zealand. http://natlib.govt.nz/records/22889745
Music played in this show
9:45am
Otis Taylor: 'Deep Blue Sea'
from the 2008 album Recapturing the Banjo

11:30am
Jessie Ware: 'Wildest Moments'
from  2012 album Devotion