Nine To Noon for Wednesday 6 November 2013
09:05 The Roastbusters underage sex scandal
Human Rights Commissioner David Rutherford; and Dr Terryann Clark from the University of Auckland Adolescent Health Research Group.
09:30 New research on NZ's second governor, Robert Fitzroy
Hamish Spencer from Otago University on new research on NZ's second governor, Robert Fitzroy, who is best known as the captain of the HMS Beagle - the survey ship which carried Charles Darwin on his five-year circumnavigation of the globe. Darwin scholars have painted him as a supporter of slavery.
09:45 Australia correspondent Peter Munro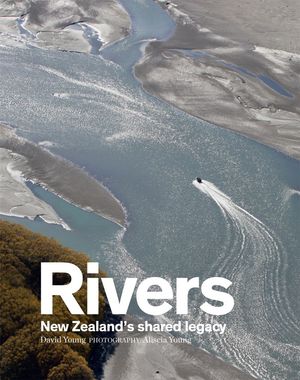 10:05  David Young - Rivers: New Zealand's Shared Legacy
History and Environment writer David Young on his new book on the importance of the country's rivers - how they shaped the country and its communities, the situation today, and the challenges of the future.
Rivers: New Zealand's Shared Legacy, by David Young. Random House.
Gallery: Rivers
10:35 Book Review with Paul Diamond
Beyond Betrayal - Trouble in the Promised Land, Restoring the Mission to Maori by Keith Newman.
Published by Penguin.
10:45 Reading: Double Happiness - How Bullshit Works written and read by Joe Bennett (Part 3 of 5)
Joe talks about Disneyfication - the use of cute animals to popularize products. Examples are Happy Feet the penguin and the use of a photo of a Labrador puppy to sell toilet paper.
11:05 Marty Duda's Artist of the Week: M Ward
M Ward (Matthew Ward) is a Portland, Oregon-based indie-folkie who began to make a name for himself in the early part of the 21st century. His guitar playing is reminiscent of John Fahey while his songs sound like they could have been written 100 years ago up in the Appalachian Mountains. He has gained prominence steadily over the past decade both with his solo work and as one half of the duo She & Him, with actress Zooey Deschanel. M Ward's most recent album is 2012's A Wasteland Companion. He is due to perform in Auckland and Wellington this coming week.
TRACKS:
1. 'Color Of Water' - M Ward taken from 2001 album End Of Amnesia (Future Farmer)
2. 'Let's Dance' - M Ward taken from 2007 album Eagle vs Shark: Original Soundtrack (Hollywood)
3. 'I Thought I Saw Your Face Today' - She & Him taken from 2008 album Volume One (Merge)
4. 'Wild Goose' - M Ward taken from 2012 album A Wasteland Companion (Merge)
11:30 Legal commentator Ursula Cheer
Online bragging and the publication of images of sexual activity.
11:45 Science with Siouxsie Wiles
Music played in this show
Song: 1234
Artist: Feist
Comp: Feist, Seltmann
Album: The Reminder
Label: Interscope
Time Played: 09:34
Song: Why Do You Let Me Stay Here
Artist: She & Him
Comp: Deschanel
Album: Volume One
Label: Merge
Time Played: 10:07
Marty's Music - 11AM
1. Color Of Water - M Ward taken from 2001 album, "End Of Amnesia" (Future Farmer)
2. Let's Dance - M Ward taken from 2007 album, "Eagle vs Shark: Original Soundtrack" (Hollywood)
3. I Thought I Saw Your Face Today - She & Him taken from 2008 album, "Volume One" (Merge)
4. Wild Goose - M Ward taken from 2012 album, "A Wasteland Companion" (Merge)