Nine To Noon for Friday 18 October 2013
09:05 News and current affairs interviews
09:30 One Million Lovely Letters
Young British poet Jodi Ann Bickley found herself with a lot of time on her hands after contracting a serious illness, and as part of her rehabilitation while she learned to walk and write again, she began the One Million Lovely Letters project. She's since sent more than a thousand encouraging letters to people all over the world.
If you would like a letter you can email Jodi at: onemillionlovelyletters@gmail.com
See Jodi Ann Bickley's TEDx Talk here.

One of the One Million Lovely Letters courtesy of Jodi Ann Bickley
09:45 Asia correspondent Jamil Anderlini
10:05 Gerry Gilmore - NZ born astrophysicist
Professor Gerry Gilmore of the Institute of Astronomy, University of Cambridge is the Principal investigator on Gaia project - a space observatory to be launched by the European Space Agency on 20 November 2013. The mission aims to compile a 3D space catalogue of approximately 1 billion stars.
Gallery for Gaia Project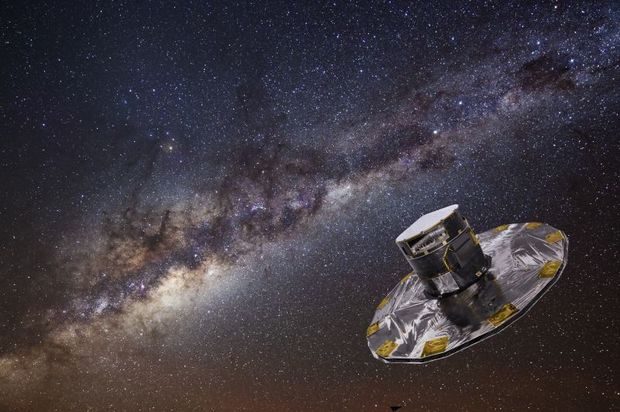 Artist's impression of the Gaia satellite (Copyright ESA, ATG medialab, ESO/S Brunier)
10:35 Children's Book Review with John McIntyre
Speed Freak by Fleur Beale
Published by Random House ISBN 978-1-77553-470-9
Dunger by Joy Cowley
Published by Gecko Press ISBN 978-1-877579-46-2
Extra Time by Morris Gleitzman
Published by Puffin ISBN 978-0-14-330775-4
10:45 Reading: Miss Brill by Katherine Mansfield
Read by Helen Moulder
A short story about an older woman's Sunday outing to a park.
11:05 New Music with Jeremy Taylor
Featuring Chvrches and Mazzy Star, and a reissue from Aztec Camera.
Artist: Chvrches
Title: The Mother We Share
Composer: Chvrches
Album: The Bones Of What You Believe
Label: Goodbye Records
Title:Lies
Composer: Chvrches
Album: The Bones Of What You Believe
Label: Goodbye Records
Artist: Mazzy Star
Title: In The Kingdom
Composer: Sandoval/ Roback
Album: Seasons Of Your Day
Label: Fontana
Title: Lay Myself Down
Composer: Sandoval/ Roback
Album: Seasons Of Your Day
Label: Fontana
Artist: Aztec Camera
Title: Oblivious
Composer: Roddy Frame
Album: High Land Hard Rain
Label: Rough Trade/ Edsel
11:30 Sport with Vinnie Wylie, Radio New Zealand International's sports journalist
11:45 The Week that Was with Radar and Pinky Agnew
Music played in this show
Song: Why Do We Fall In Love
Artist: Iva Lamkum
Comp: Lamkum
Album: Black Eagle
Label: Sony
Time Played: 10:05
Song: Tiny Little Piece Of My Heart
Artist: Bic Runga
Comp: Runga
Album: Belle
Label: Sony
Time Played: 11:45
Jeremy Taylor: 11:05 - 11:30
Artist: Chvrches
Title: The Mother We Share - track 1, 3'12"
Composer: Chvrches
Album: The Bones Of What You Believe
Label: Goodbye Records
Title:Lies - track 5, 3'41"
Composer: Chvrches
Album: The Bones Of What You Believe
Label: Goodbye Records
Artist: Mazzy Star
Title: In The Kingdom - track 1, 5'15"
Composer: Sandoval/ Roback
Album: Seasons Of Your Day
Label: Fontana
Title: California - track 2, 4'32"
Composer: Sandoval/ Roback
Album: Seasons Of Your Day
Label: Fontana
Artist: Aztec Camera
Title: Oblivious - track 1, 3'13"
Composer: Roddy Frame
Album: High Land Hard Rain
Label: Rough Trade/ Edsel