Nine To Noon for Tuesday 15 October 2013
09:05 Residential construction costs in the spotlight amid drive to build new houses in Auckland and Christchurch
Tony Sewell, Ngai Tahu Property chief executive and president of the Property Council of NZ; Warren Jack, Habitat Auckland executive director; and Bruce Kohn, NZ Building Industry Federation CEO.
09:25 Kohanga Reo spending investigation
Te Ururoa Flavell, Maori party co-leader.
09:20 Professor Norman Hammond on the ancient Maya city of La Milpa
Norman Hammond is Professor Emeritus of Archaeology at Boston University, Associate in Maya Archaeology at the Peabody Museum, Harvard University and a Senior Fellow at Cambridge University. He is speaking at universities throughout New Zealand this month, about the ancient city of La Milpa in northwestern Belize – one of the Maya cities most recently investigated by archaeologists. Its rapid rise, sudden fall, and complex urban structure have shed new light on the precariousness of Maya existence.
Gallery: Norman Hammond's exploration of the site of Cuello in Belize, in 1979/1980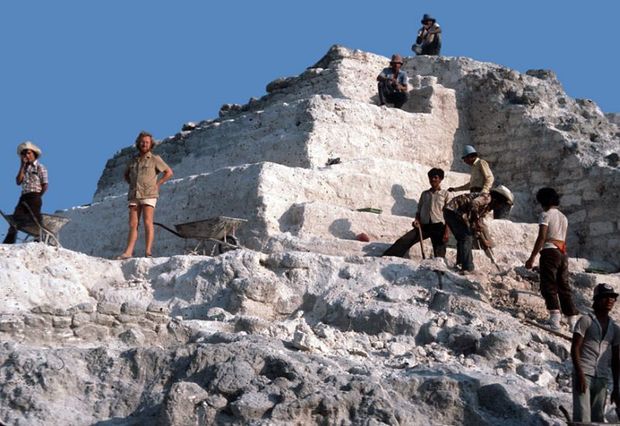 Norman Hammond's exploration of the site of Cuello in Belize, in 1979/1980. Image courtesy of Norman Hammond.
09:45 US correspondent Luiza Savage
10:05 Roger Chapman - Submariner who survived 3+ days on the bottom of the ocean
In 1973, submariners Roger Chapman and Roger Malinson were trapped 1,575 feet (480) metres below the Irish Sea in a fatally crippled midget submarine. The workmates remarkably survived the 84 hour ordeal despite having insufficient 'life support'. When they were rescued they had just 20 minutes of oxygen left – and had accepted they were likely to die. Forty years later a movie of the ordeal and rescue is to be made.
10:35 Book Review with Gail Pittaway
An Officer and a Spy by Robert Harris
Published by Hutchinson
10:45 The Reading: The Fly by Katherine Mansfield read by Patrick Smyth.
The story Katherine Mansfield hated writing... it's about a bank manager and a fly that has fallen into an inkpot and much more!
11:05 Business commentator Rod Oram
The Meridian float and Mighty River Power's share buy back; the US government budget and debt ceiling negotiations; and the Trans-Pacific Partnership trade talks.
11:25 Mary Jane O'Reilly - A life in dance
Mary Jane O'Reilly is one of New Zealand's most prolific and accomplished contemporary dancers and choreographers. She co-founded the Limbs Dance Company and the Auckland Dance Company, and choreographed the 1990 Commonwealth Games opening ceremony and the 2000 Millenium dawn celebrations at Gisborne. Mary Jane has just been honoured by the Tempo Dance Festival for the achievements of her career.
11:45 Media commentator Gavin Ellis
Music played in this show
11:23am
Waldeck: 'Make My Day'
from his 2007 album Ballroom Stories