Nine To Noon for Thursday 10 October 2013
09:05 The widening impact of the US government shutdown
Chief Political Strategist of Potomac Research Group Gregory Valliere.
09:20 Impact of US shutdown on the US Antarctic programme
Chief science officer at Point Blue Conservation Science Grant Ballard.
09:30 Do proposed changes to university governance undermine the independence of democratic institutions?
With Sandra Grey, the vice president of the Tertiary Education Union and co-chair of a new organisation of academics, Academic Freedom Aotearoa and Auckland University Vice-Chancellor and former Victoria University Vice-Chancellor Professor Stuart McCutcheon.
09:45 UK correspondent Jon Dennis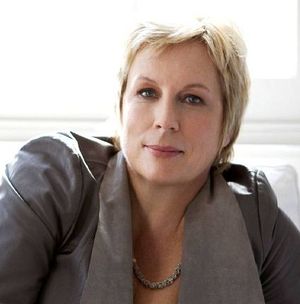 10:05 British comedienne Jennifer Saunders
British comedienne Jennifer Saunders (pictured right) is the writer and star of TV shows French & Saunders, Absolutely Fabulous, and Jam & Jerusalem - the results of decades-long partnership with other comedy greats such as Dawn French, Joanna Lumley and Ruby Wax. She has just written her memoir, Bonkers: My Life in Laughs, which is published by Penguin and released today. Her ground-breaking comedy has seen her win three BAFTAs, an Emmy, two Writers Guild Awards, and a People's Choice Award.
10:35 Book review with Rae McGregor
Just One Evil Act by Elizabeth George
Published by Hodder, RRP$39.99
10:45 Reading: End of the Alphabet, by Fleur Beale

Told by Sara Allen (Part 9 of 10)
11:05 New technology with Erika Pearson
Lavabit files unsealed; selling phone secrets to advertisers; and silk roads and sheep Marketplaces.
11:30 Diane Levy on Parenting
Family therapist and author Diane Levy discusses how to effectively use time out for children of all ages.
11:45 Film review with Dan Slevin
Gravity and Mr Pip.
Music played in this show
Song: Sea Of Dreams
Artist: Anika, Boh And Hollie
Comp: Anika, Boh And Hollie
Album: Peace Of Mind
Label: Sony
Time Played: 9:30
Song: Don't Forget Yourself
Artist: The Bads
Comp: The Bads
Album: Travel Light
Label: Warner
Time Played: 09:50
Song: Singing Softly To Me
Artist: Kings Of Convenience
Comp: Oye/Glambek Boe
Album: Quiet Is The New Loud
Label: Astrelwerks
Time Played: 11:05
Song: Everything
Artist: Jehro
Comp: Baily/Cotta
Album: Jehro
Label: Recall
Time Played: 11:25
Song: Reckoner
Artist: Radiohead
Comp: Radiohead
Album: In Rainbows
Label: Xl
Time Played: 11:47