Nine To Noon for Friday 4 October 2013
09:05 Russia charges 30 Greenpeace activists, including two New Zealanders, with piracy
The head of Greenpeace International's Arctic Campaign, Ben Ayliffe.
09:20 Law Commission review of burial and cremation in NZ
Lead Commissioner Wayne Mapp on the Law Commission review which proposes opening up the cemetery sector to independent providers including those who wish to develop alternative options like 'eco' burial grounds, as well providing greater scope for New Zealanders to be buried on private land. It also suggests it be mandatory for those providing funeral services to be licensed and that they should have to proactively disclose prices for different services.
09:35 The writer of the cult movie Sharknado
Sharknado writer Thunder Levin.
09:45 Asia correspondent Jamil Anderlini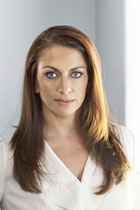 10:05 Rabia Siddique - former British Army military lawyer
The Australian Muslim lawyer who took on the British Army for discrimination – and won. Rabia Siddique served with the Army in Iraq but her pivotal role in helping free two SAS hostages was whitewashed from the official record.
Equal Justice by Rabia Siddique
Published by Pan Macmillan Australia
(Photo of Rabia Siddique by Denise Teo)
10:35 Children's book review with John McIntyre
Jane, The Fox and Me by Fannny Britt, illustrated by Isabelle Arsenault 
Published by Walker Books
ISBN 978-1-4063-5304-4
One Hen - How One Small Loan Made a Big Difference by Katie Smith Milway, illustrated by Eugenie Fernandes
Published by Kids Can Press  
ISBN  978-1-55433-028-1
10:45 Reading: End of the Alphabet, by Fleur Beale
Told by Sara Allen (Part 5 of 10)
11:05 New music with Jeremy Taylor
11:30 Sports commentator Duncan Grieve
The renegotiated Super 15 competition for 2016 and the NRL Grand Final this weekend.
11:45 The Week That Was with James Elliot and Michele A'Court