Nine To Noon for Friday 13 September 2013
09:05 The "Axe the Copper tax" campaign
Paul Brislen, CEO of Telecommunications Users Association of NZ; Mark Ratcliffe, chief executive of Chorus; and John Small from Covec, which wrote a report for the Coalition for Fair Internet Pricing.
09:30 UK art expert sheds new light on Van Gogh's lost sunflower paintings
Martin Bailey is a specialist on Van Gogh. The UK journalist and curator is the author of The Sunflowers are Mine: The Story of Van Gogh's Masterpiece.
09:40 America's Cup - Update
Todd Niall, RNZ correspondent in San Francisco.
09:50 Pacific correspondent Michael Field 
10:05 Harry Broad and Rob Suisted - Molesworth Station
Writer Harry Broad and photographer Rob Suisted journey's through Molesworth Station in the South Island, New Zealand's largest farm. The 180,787 hectare station in south Marlborough is renowned as a place where conservation, recreation and farming go hand in hand. Harry and Rob talk about their book Molesworth - Stories from New Zealand's largest high-country station.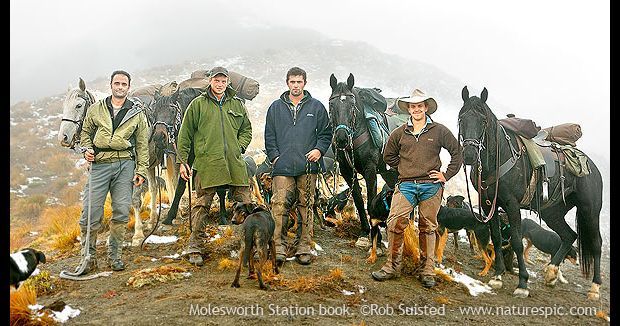 Molesworth Station autumn muster team.
10:35 Book review with Tilly Lloyd from Unity Books
The Kills by Richard House
Published by Picador
(ISBN  9781447249948), RRP$39.99
10:45 Reading: Civilisation, written and read by Steve Braunias
The stories of people in small-town New Zealand. Today, Tangimoana. (Part 5 of 10)
11:05 Music review with Sean McKenna
New music from Janelle Monae, Bill Callahan, Goldfrapp and Arctic Monkeys.
Artist: Janelle Monae
Songs: Suite IV: Electric Overture
Givin Em What They Love (feat. Prince)
The Chrome Shoppe (Interlude)
Dance Apocalyptic
Comp: Monae
Album: The Electric Lady
Label: Bad Boy Recordings
Artist: Bill Callahan
Song: The Sing
Comp: Callahan
Album: Dream River
Label: Drag City
Artist: Goldfrap
Song: Clay
Comp: Goldfrapp, Gregory
Album: Tales of Us
Label: Mute
Artist: Arctic Monkeys
Song: I Want It All
Comp: Arctic Monkeys
Album: AM
Label: Domino
11:30 Sports commentator Joseph Romanos
Tana Umaga's slap on the wrist, the All Blacks-Springbok test on Saturday, Martin Snedden is back involved in NZ cricket, the Davis Cup tennis and the America's Cup.
11:45 The Week That Was with Te Radar and Pinky Agnew