Nine To Noon for Monday 22 July 2013
09:05 Wellington on edge after swam of earthquakes culminating in a magnitude 6.5
Wellington CBD workers told to stay home this morning as engineers assess buildings following a magnitude 6.5 earthquake on Sunday afternoon. Deputy Mayor Ian McKinnon has the latest information on damage and disruptions.
Gallery: Wellington's CBD following Sunday's magnitude 6.5 earthquake
09:15 Emergency Services Officer for Marlborough Gary Spence
09:20 The science behind the swarm of earthquakes off the Marlborough coast
Dr Mark Quigley, earthquake geologist from Canterbury University
09:45 Europe correspondent Seamus Kearney
10:05 John Gribben - Quantum computing
10:30 Book Review with Phil Smith
The Ocean at the End of the Lane by Neil Gaiman
Published by Hachette NZ
10:45 Reading: 'The Forrests' by Emily Perkins
Read by Fiona Samuel
(Part 1 of 12)
11:05 Politics with Matthew Hooton and Mike Williams
11:30 Coffee
Masako Yamamoto is a barista at Auckland's Atomic Cafe and Roastery in Kingsland.
11:45 Off the Beaten Track with Kennedy Warne 
The Milford tunnel – drilling down into the minister's decision.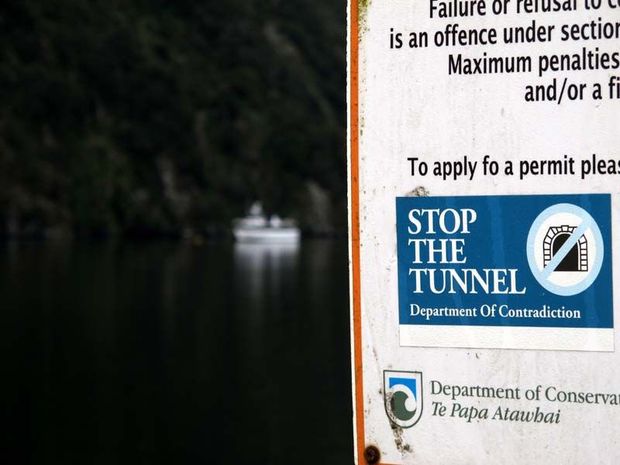 Sign at slipway, Milford Sound, April 2013.
Music played in this show
Song: Pagan Angel And A Borrowed Car
Artist: Iron & Wine
Comp: Sam Beam
Album: The Shepherd's Dog
Label: Subpop
Time Played: 10:35
Song: Cosmic Dancer  
Artist: T. Rex
Comp: Marc Bolan
Album: Marc Bolan & T. Rex: Born To Boogie, The Collection
Label: Spectrum
Time Played: 11:30
Song: Done The Line
Artist: Jose Gonzalez
Comp: Jose Gonzalez
Album: The Best Of Acoustic
Label: Shock
Time Played: 11:48