Nine To Noon for Monday 15 April 2013
09:05 Drought costs expected to hit $2bn - what impact will that have on already-strained farmers?
Janette Walker is a farmers' advocate who helps with debt issues. She has researched the issue of bank swaps and the impact they have on farmers' debt levels.
09:30 Models of houses, some destroyed in Christchurch earthquakes
Kathryn Ryan talks to retired high school art and design teacher Richard Gardiner, who's been putting his design skills to use making architectural models of houses and public buildings. Some of the buildings were destroyed in the Christchurch earthquakes.
Gallery: model buildings by Richard Gardiner

Richard Gardiner's model of the Lyttelton Police Station.
09:45 Europe correspondent Seamus Kearney
10:05 Stanton Glantz: tobacco control
Professor Stanton Glantz is one of the world's leading voices on tobacco control. He is a cardiologist and the director of the Center for Tobacco Control Research and Education at the University of California, San Francisco.
10:30 Book Review with Gail Pittaway
Amity and Sorrow by Peggy Riley
Published by Hachette NZ
10:45 Reading: Bitten by the Bullet by Steve Krzystyniak and Karen Goa
Read by Jacob Rajan.
Bitten by the Bullet is the story of how Steve Krzystyniak and his partner Lily came to set up and operate an innovative motorcycle tour company that takes small parties through the north-western Indian state of Rajasthan.
11:05 Political commentators Matthew Hooton and Mike Williams
The impact of Thatcher's death on New Zealand; GCSB; teacher protests; and was John Key's trip to China a success?
11:30 Guest chef Dariush Lolaiy from Cazador game restaurant
Dariush Lolaiy is the head chef at Cazador, an old family restaurant specialising in game which is now in the hands of a new generation.
11:45 Off The Beaten Track with Kennedy Warne
South to Te Wahipounamu.
Gallery: South to Te Wahipounamu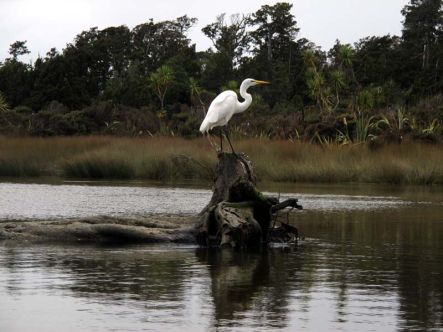 Kotuku at Okarito. Photograph by Kennedy Warne.
 
Music played in this show
Playlist
09:05am
Clare and the Reasons: 'That's All'
from their 2010 album "Arrow"
09:35am
Elvis Costello: 'Down Among The Wine And Spirits'
from his 2009 album "Secret, Profane and Sugacane"
10:35am
Bob Dylan: 'Corrina, Corrina'
from his 1963 album "The Free Wheelin' Bob Dylan"
11:30am
The Sami Sisters: 'On This Day'
from their 2011 album "Happy Heartbreaker"