Nine To Noon for Monday 11 February 2013
09:05 New Zealand's living wage campaign
New figures show 750,000 New Zealanders can be classed as the 'working poor' according to a union estimate of what makes a 'living wage'. Darryl Evans, the CEO of the Mangere Budgeting Service; Deborah Littman, the lead organiser for Metro Vancouver Alliance, and was formerly Vice Chair of London Citizens, and National Officer for UNISON, the UK's largest public service union and Wellington City mayor Celia Wade-Brown
09:35 School suspensions - keeping students in school
Peter Garelja is the Principal of Tikipunga High School in Whangarei, which is part of a cluster of five local schools aiming to keep students in school; Whangarei-based Isopo Samu, who used to work for the Ministry of Education as a senior advisor and is now a youth contract worker; and Staci Paul, the Alternative Education Manager at Kamo High School.
09:45 Germany correspondent Peter Craven
10:05 Rose Evans - artefact conservator
Rose Evans is a New Zealand heritage professional who has worked in some of the world's most significant museums and galleries. She has specialised in the conservation of Māori and Pacific artefacts - this work led to her being the only representative from the Southern Hemisphere to be invited to New York's prestigious Bard Graduate Centre in January 2013 to participate in a international symposium on the conservation of cultural objects.
10:35 Book Review with Carol Beu
Who Was That Woman, Anyway? Snapshots of a Lesbian Life by Aorewa McLeod
Published by Victoria University Press
10:45 Reading: The Open Accounts of an Honesty Box by Julie Helean (Part 3 of 12)
Jinx meets Martha, the owner of Easy's sueperette and learns there's no public toilet in the town. Hailey the barmaid wants her to do something about the school busdriver who drinks on the job. Jinx sets up a road test and discovers it's true, and meets the attractive district nurse Fliss once more.
11:05 Politics with Matthew Hooton and Mike Williams
John Key's bilateral meeting with Australian Prime Minister Julia Gillard; the prospect of a four-year parliamentary term; and the state of the Navy.
11:30 Guest chef Connie Clarkson and wine commentator John Hawkesby
Recipes for Chines New Year festivities
Crispy Coconut Prawns with a mango, ginger and lime salsa and coconut rice
Chinese New Year dumplings
11:45 Off The Beaten Track with Kennedy Warne
Kennedy's in Tsitsikamma National Park, on the southern coast of South Africa. He's discussing pelican-chasing conservation volunteers, and star-watching dung beetles.
Gallery: Cape gannets on Malgas Island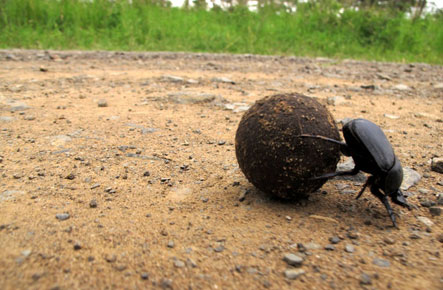 Music played in this show
Music played
TITLE: Who Knows
ARTIST: Marion Black
COMP: Black
ALBUM: From Eccentric Soul compilation
LABEL: Numero
TIME PLAYED: 10.06am
TITLE:  Sound and Vision
ARTIST: David Bowie
TIME PLAYED: 11.08am
TITLE: 78
ARTIST: Reb Fountain
COMP: Fountain
ALBUM: Holster
LABEL: Fountain
TIME PLAYED: 11.35