Nine To Noon for Friday 30 November 2012
09:05 Leveson report
Mary-Ellen Field is one of 184 witnesses to give evidence to the Leveson Inquiry. The former business adviser to model Elle Macpherson lost her job as a result of phone hacking.
09:20 Leveson report
Paul Connew is a tabloid editor-turned-public relations expert who has followed the phone hacking scandal closely.
09:20 New Zealand Rural Party
Ken Rintoul is a president and co-founder and of the NZ Rural Party; and Joe Carr, NZ Rural Party founding member and board member.
09:30 Meshed Names
UK Deed Poll Officer Louise Bowers discusses the trend for increasing numbers of newly married couples to blend the distinctive syllables of their two surnames to create a new one – a practice known as "meshing".
09:45 Pacific correspondent Mike Field
10:05 Mike Morwood and Thomas Sutikna - Homo floresiensis
Mike Morwood and Thomas Sutikna are the two scientists behind the discovery of a new species of human, Homo floresiensis, which was subsequently nicknamed the "hobbit". They talk about their ongoing excavations that seek to better understand this new and unique species of human.
Both men will hold a free public lecture on Homo floresiensis tomorrow (Saturday) at 3 pm at Te Papa's Soundings Theatre. It will also be webcast live.
Gallery: Homo floresiensis - the "hobbit"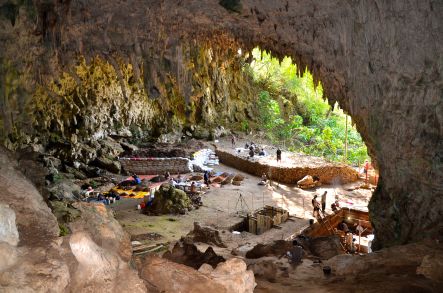 Ongoing (2012) archaeological excavations at Liang Bua cave, west-central Flores, Indonesia. Here in 2003, a new Hominin species (Homo floresiensis) was unearthed by a team of Australian & Indonesian archaeologists (Photo: Brent Alloway).
10:35 Children's Book Review with John McIntyre
Sammy and the Skyscraper Sandwich by Lorraine Francis, illustrated by Pieter Gaudesaboos
Published by Book Island
ISBN 978-0-9876696-0-5
The Great Birthday Cake Mystery by The Tjong-Khing
Published by Gecko Press
ISBN 978-1-877579-10-3
The Magical Life of Mr Renny by Leo Timmers
Published by Gecko Press
ISBN 978-1-877467-89-9
0:45 Reading: One Flat Coyote on the Centre Line by Karen Goa (Part 5 of 10)
Travel writer Karen Goa and her husband travel across their native Canada after 20 years enjoying the New Zealand good life.
11:05 New Music review with Sean McKenna
Artist: Cody ChesnuTT
Album: Landing on a Hundred
Songs: Til I Met Thee, Under the Spell of the Handout
Artist: Lianne La Havas
Album: Is Your Love Big Enough?
Song: No Room for Doubt (with Willy Mason)
Artist: Various
Album: Keb Darge & Little Edith's Legendary Wild Rockers 2
Songs: The Catalinas - The Catalina Push, Rhythm Rockers - Madness
Artist: Various
Album: Nuggets: Original Artyfacts From The First Psychedelic Era 1965-1968
Songs: The Count Five - Psychotic Reaction, Nazz - Open My Eyes
11:30 Sports commentator Richard Boock
How New Zealand has pulled off the unthinkable - a test win in Sri Lanka.
11:45 The Week That Was with James Elliott and Pinky Agnew