Nine To Noon for Tuesday 20 November 2012
09:05 Middle East conflict
Rami Khouri from the Institute of Public Policy and International Affairs at the American University of Beirut.
09:30 More issues with Novopay
Schools are now finding they cannot enter vital end of year data to ensure staff get their Christmas pay.
Paul Drummond, head of the Principals Federation.
09:35 Canterbury Charity Hospital
A hospital In Christchurch has opened a new wing which will offer expanded counselling, a free dental service, and free colonoscopies – and it's already oversubscribed. Philip Bagshaw is a surgeon and founder and chair of the Canterbury Charity Hospital.
09:45 US correspondent Jack Hitt
10:05 Pasifika multi-media artist Lindah Lepou
Lindah Lepou is an award-winning fashion designer who coined the term, 'Pacific couture' to illustrate a distinction between Pacific 'fashion clothing' worn every day and Pacific 'fashion art'.  Lindah's designs draw equally from European couture and her Pacific heritage.
Her multimedia exhibition, Aitu: Homage to the Spirit, can be seen at City Gallery in Wellington, until December.
10:35 Book Review with Dan Slevin
Back to Blood by Tom Wolfe
Published by Jonathan Cape
10:45 The Reading: The Trouble with Fire by Fiona Kidman
A series of short stories by Fiona Kidman.
11:05 Business commentator Rod Oram
Green growth and New Zealand's not-so-green image portrayed in a New York Times newspaper story.
11:20 Treasures from the Turnbull collection with Fiona Oliver
Two early emigration stories – one a success, the other a spectacular failure – with the missionary James Buller as the link between the two.
Gallery: Treasures from the Turnbull collection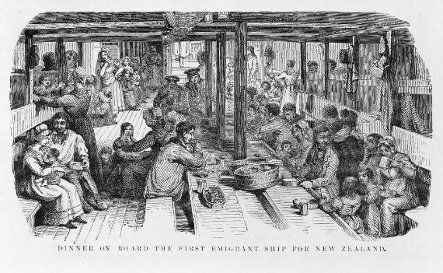 'Dinner on board the first emigrant ship for New Zealand' (Auckland: Star Lithographic Words, 1890). The Aurora was the first immigrant ship to New Zealand; however, this wood engraving was an adaptation of the scene on another ship, published in the Illustrated London News in 1844. Conditions were likely to have been very similar. ATL ref: A-109-054
11:45 Film with Graeme Tucket
New releases Skyfall, Diana Vreeland: The Eye Has To Travel, and Robot And Frank.
Music played in this show
Playlist
Time Played: 09:43am
Title: Never Enough
Artist: Sola Rosa
Comp: Worboys/Spraggon
Label: Way Up
Time Played: 10:06am
Title: Say After Me
Artist: Bic Runga
Comp: Runga
Album: Birds
Label: Columbia
Time Played: 11:25am
Title: Yesterday Is Here
Artist: Bettye Lavette
Comp: Tom Waits
Album: Thankful N' Thoughtful
Label: Anti
Time Played: 11:45am
Title: Forever Polida
Artist: Moussu T Et Lei Jovents
Comp: Ridel/Attard
Album: Invente A La Ciotat
Label: Adami