Nine To Noon for Tuesday 13 November 2012
09:05 Hurricanes became the first NZ Super Rugby franchise to confirm private ownership
Rugby Players' Association executive director Rob Nichol; Rob Morrison, chair of the Welnix consortium which has the licence to manage the Hurricanes and took control of the Wellington Phoenix soccer team last year; and Richard Boock, sports journalist.
09:30 The once-in-a-decade leadership change in China
Anne-Marie Brady is an Associate Professor in Political Science at Canterbury University who specialises in researching Chinese politics. She is in Beijing where the 18th Chinese Communist Party's Congress is taking place.
09:45 US correspondent Luiza Savage
10:05 Mick Wall - rock biographer
Mick Wall was the founding editor of Classic Rock magazine and he's the author of numerous rock titles – he's written books on Iron Maiden, Black Sabbath, and the critically acclaimed biography of Led Zeppelin, When Giants walked the Earth.
Mick's latest book is on AC/DC, Hell Ain't a Bad Place To Be, published by Orion.
10:35 Book Review with Jolisa Gracewood
Oh Dear Silvia by Dawn French
Published by Michael Joseph
10:45 The Reading: Wulf by Hamish Clayton
The award-winning story of Te Rauparaha's surprise raid in 1831 when he chartered an English trader's ship to take his war party from Kapiti to Banks Peninsula for an attack on his Kai Tahu enemy. (Part 7 of 10)
11:05 Business commentator Rod Oram
The announcement that New Zealand will not be part of the Kyoto climate change protocol in the future and the sluggish economy.
11:30 NZ Sculpture OnShore
Rob Garrett has curated NZ Sculpture Onshore, a biennial outdoor exhibition, for the third time. It features the work of more than 100 artists and is displayed at Fort Takapuna in Auckland until 18 November.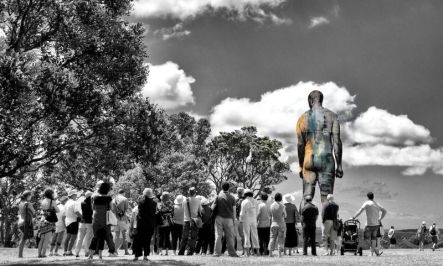 In Search of Barebottomed Land by Christian Nicholson at NZ Sculpture OnShore. Image courtesy of NZ Sculpture Onshore.
11:45 TV review with Lara Strongman
The sad death of the actor who played Coronation Street's Jack Duckworth, the strange fascination of Border Patrol and the wholesome branding of The Free Range Cook.
Music played in this show
Playlist
09:06am
Alison Krauss: 'Miles To Go'
from her 2011 album "Paper Airplane"
10:06am
AC/DC: "A Long Way To The Top'
from the 1975 album "High Voltage"
10:40am
AC/DC: "Highway to Hell"
from the 1979 album "Highway to Hell'
11:30am
B B King: 'You Upset Me Baby'