Nine To Noon for Monday 10 September 2012
09:05 The planned closure of the only overnight medical clinic in Porirua
Dr Rob Kieboom is an accident and medical doctor with 15 years experience who works overnight once a week at the Keneperu centre. Porirua GP Dr Larry Jordan is the chair of the steering committee which came up with the proposal. He is also the chair of Compass Primary Health Care Network PHO.
09:30 Cybercrime - do we need a UN treaty to tackle it?
Judge Stein Schjolberg, international cybercrime expert - he's an extraordinary Court of Appeal Judge in Norway and chair of the EastWest Institute (EWI) Cybercrime Legal Working Group.
Judge Schjolberg is speaking at the 13th International Criminal Law Congress being held in Queenstown from 12 to 16 September. His topic is: 'Potential New International Legal Mechanisms Against Global Cyberattacks and Other Global Cybercrime'
09:45 Middle East correspondent Irris Makler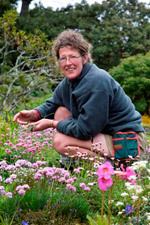 10:05 Fiona Eadie - Larnach Castle gardener
Fiona Eadie (right) is the head gardener at Larnach Castle in Dunedin, which is set in 14 hectares of grounds.
100 Best Native Plants for New Zealand by Fiona Eadie
Published by Random House NZ/Godwit
Gallery: the grounds at Larnach Castle
10:35 Book Review wtih James Elliott
The Time Keeper by Mitch Albom
Published by Sphere
10:45 Reading: Hand Me Down World by Lloyd Jones
An African woman becomes pregnant while working as a cleaner in a Tunisian hotel but, just weeks after the birth, her baby is stolen away by the father. Her journey to find him relies on the barest of resources as she tracks him across continents.
11:05 Political commentators Matthew Hooton and Josie Pagan
Labour's big education announcement, the looming US election and asset sales on hold.
11:30 Guest chef Amanda Williams
Part owner of new Ponsonby Road restaurant Tin Soldier discusses a modern take on nostalgic New Zealand food.
Recipes:
Maple Roasted Pumpkin
Soy Glazed Pigs Cheek
Apple Crumble with Apple Sorbet
11:45 Urbanist Tommy Honey
Maps, mapping, Google and us.
Links:
Liquid Galaxy
Street View Trekker
 
Music played in this show
Playlist
TIME PLAYED: 0936
TITLE: Humdrum Blues
ARTIST: Oscar Brown Jnr
COMP: Oscar Brown Jnr
ALBUM: Sin & Soul... and then some
LABEL: Kent 672250
TIME PLAYED: 1131
TITLE: Silver Lining
ARTIST: Rilo Kiley
COMP: Jenny Lewis
ALBUM: Under the Blacklight
LABEL: Warner 189372