Nine To Noon for Wednesday 15 August 2012
09:05 The Law Commission recommends law changes to combat cyber bullying and online harassment
Professor John Burrows, Law Commission.
09:30 Schools and individual teachers are paying to feed hungry children to ensure they ready to learn
Pat Poland, principal of Deanwell School in Waikato; Anna Cox, Researcher from Poverty Action Waikato.
09:45 Australia correspondent Karen Middleton
10:05 Bert Stern - legendary American celebrity and fashion photographer
Photographer Bert Stern rose to fame during the sixites – the golden age of advertising, and went on to take portraits of the world's most famous women – including Marilyn Monroe. He talks about his star-studded career and his own fall from grace.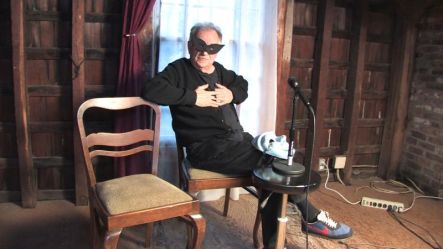 Photographer Bert Stern. Image used with permission.
10:35 Book Review with Rae McGregor
In the Kindgom of Men by Kim Barnes
Published by Hutchinson $34.99
10:45 Reading: Rangatira by Paula Morris
Read by George Henare
The party of Rangatira has been enjoying social success in London including visiting the Prince and Princess of Wales at Marlborough House. But not everything is rosy.
11:05 Marty Duda's Artist of the Week - Frank Zappa
One of the most creative, talented and musically adventurous artists to emerge fom the 1960s,.
Tracks:
1. Call Any Vegetable (2:15) - The Mothers Of Invention taken from 1967 album, "Absolutely Free" (Verve)
2. Peaches En Regalia (3:39) - Frank Zappa taken from 1969 album, "Hot Rats" (Bizarre/Reprise)
3. Montana (6:35) - Frank Zappa & The Mothers taken from 1973 album, "Over-Nite Sensation" (DiscReet/WB)
4. Dancin' Fool (3:42) - Frank Zappa taken from 1979 album, "Sheik Yerbouti" (Zappa)
11:30 Law Talk
Auckland barrister Grant Illingworth discusses the Bill of Rights.
11:45 Science correspondent Simon Pollard
Music played in this show
Playlist
09:25am
Green Lights by Aloe Blacc
Written by Dawkins (Aloe Blacc) 
From the Album "good Things" 2010
10:06am
Diamonds are A Girl's Best Friend, performed by Marilyn Monroe
Written by Robin Styne
From the Album Marilyon Monroe - Marilyn Sings
10:33am
You've Got the Kind of Nerve I Like by Tiny Ruins
Written by Holly Fullbrook
From her 2011 debut album Some Were Meant for the Sea
11:47am
Just a Little Lovin' - Dusty Springfield
Written by Mann/Weil
From her 1969 album Dusty in Memphis