Nine To Noon for Tuesday 14 August 2012
09:05 Valerie Adams elevated to Gold medal after Belarussian shotputter fails banned substance test
Jane Kernohan, general manager of Drug Free Sport New Zealand. Drug Free Sport New Zealand is a crown entity intended to educate elite athletes and test them for banned performance enhancing drugs.
09:25 Amendments to the Animal Welfare Act
John Hellstrom, chairman of the National Animal Welfare Advisory Committee; and Hans Kriek, director of SAFE - Save Animals From Exploitation.
09:45 US correspondent Jack Hitt
Mitt Romney's running mate, Paul Ryan.
10:05 Feature guest - luxury furniture designer Ed Cruikshank
Arrowtown-based luxury furniture designer, Ed Cruikshank , who worked with Viscount David Linley for ten years in the UK before coming to New Zealand on holiday and staying.
Gallery: Work by Ed Cruikshank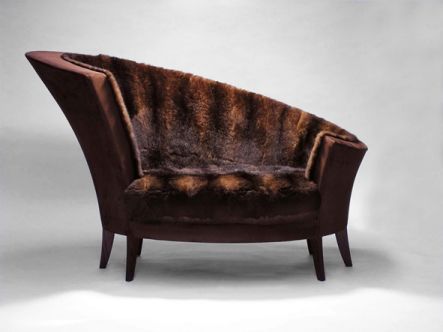 Koru Chair by Ed Cruikshank.
10:35 Book Review with Harry Ricketts
Elemental: Central Otago Poems by Brian Turner
Illustrated by Gilbert van Reenan
Published by Random House NZ Godwit
10:45 Reading: Rangatira by Paula Morris
Read by George Henare
Paratene and his fellow Māori arrive in London and stay in the Strangers' Home in Limehouse near the docks.
11:05 Business commentator Rod Oram
Meridian, and following up briefly on Government moves on the Exclusive Economic Zone.
11:20 Proposals for a monorail to speed up the journey from Queenstown to Milford Sound
Daphne Taylor, chairperson of the Save Fiordland Group; and John Beattie, director of Riverstone Holdings, which is the company that wants to build the monorail project
11:45 Film Review with Graeme Tuckett
Take This Waltz, Abraham Lincoln: Vampire Hunter and The Campaign.
Music played in this show
Playlist
9:47am
Jonathan Jeremiah: 'That Same Old Line'
from his 2011 album 'A Solitary Man'
11:25am
B B King: 'Bad Luck Soul'
from 1961