Nine To Noon for Wednesday 1 August 2012
09:05 Will Christchurch ratepayers be stuck with the massive bill for major civic projects planned for the new CBD, including an arts centre and large stadium?
Yani Johanson, Christchurch City Councillor; and Peter Townsend, CEO of the Canterbury Employers' Chamber of Commerce.
09:30 Neuro-plasticity and how physical activity can improve cognitive function in older people
Pofessor Arthur Kramer is the director of the Beckman Institute for Advanced Science & Technology and the Swanlund Chair and Professor of Psychology and Neuroscience at the University of Illinois.
09:45 Australia correspondent Ray Moynihan
10:05 Jacqueline Fahey - artist and writer
Part two of Jacqueline Fahey's memoir is called Before I Forget and delves into her life after her marriage to psychiatrist Fraser McDonald and becoming an artist and name in her own right.
Gallery: Work by Jacqueline Fahey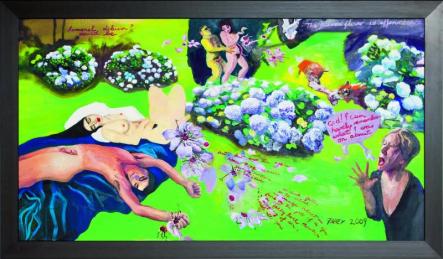 Effervescence, Jacqueline Fahey, 2009.
10:35 Book Review withPaul Diamond
Ngarimu: Te Tohu Toa Victory at Point 209 by Kawata Teepa
Published by Huia Publishers
10:45 Reading: 'Everything' by Pip Adam read by Alison Harper
The third in a series of short stories from Pip Adam's collection Everything We Hoped For.
11:05 Marty Duda's Artist of the Week - Willy DeVille
Willy DeVille is best-known as the leader of Mink DeVille, one of the many bands who emerged from the New York City punk scene in the mid-70s along with The Ramones, Patti Smith, Blondie and Television. Willy DeVille was a huge fan of the R&B groups of the 1950s such as The Drifters along with blues, Latin soul, and Creole. He went solo in the 1980s, gaining his biggest fame with the song Storybook Love that appeared on the soundtrack to The Princess Bride. He passed away three years ago, but his music continues to be reissued, especially in Europe.
Willy DeVille In New Orleans has just been issued featuring a collection of studio and live recordings, some never released before.
Tracks
1. Spanish Stroll (3:28) - Mink DeVille taken from 1977 album, "Cabretta" (Capitol)
2. This Must Be The Night (2:40) - Mink DeVille taken from 1980 album, "Le Chat Bleu" (Capitol)
3. Storybook Love (4:28) - Willy DeVille with Mark Knopfler Hogan taken from 1987 album, "Miracle" (A&M)
4. Just Off Decatur Street (4:24) - Willy DeVille taken from 2012 album, "In New Orleans" (Big Beat)
11:30 Legal commentator Ryan Malone
Members bills.
11:45 Science commentator Simon Pollard
Venoms of Doom.