Nine To Noon for Monday 18 June 2012
09:05 Pro-bailout parties set to form a government after Greece's make-or-break election
Theodore Couloumbis, the Vice-President at the Hellenic Foundation for European and Foreign Policy in Athens, analyses the parliamentary election, with pro-bailout parties led by New Democracy, on course to secure a majority, keeping the debt-laden country in the eurozone.
09:25 Fewer Pakeha children attending low-decile schools
Vicki Carpenter, senior lecturer at the Faculty of Education, the University of Auckland, and with School of Critical Studies in Education; and Jeanette de la Mare, principal of decile 2 Mirimar South school in Wellington.
09:45 Middle East correspondent Irris Makler
10:05 Pete Bossley - Award-winning NZ architect
Auckland-based architect Pete Bossley last month won the NZ Institute of Architects' Gold Medal for 2012. The director of Bossley Architects is best known for his designs for Te Papa, the Voyager Maritime Museum and the McCahon Artist Retreat in Auckland.
Gallery: Architecture by Pete Bossley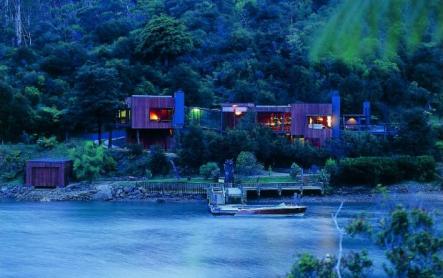 Seresin House, Waterfall Bay, Marlborough Sounds. Photograph by Paul McCredie.
10:35 Book Review with Jeremy Hansen
Athfield Architects by Julia Gatley
Published by Auckland University Press
www.homenewzealand.blogspot.com
10:45 Reading: The Collector's Dream by Pierre Furlan (Part 6 of 10)
A quirky picaresque tale, tells of real life NZ inventor Franklin Bodmin and his collector son Will.
11:05 Politics with Matthew Hooton and Josie Pagani
The shambles at ACC; Auditor General investigation of the Sky City convention centre; superannuation; and share float legislation close to passing.
11:30 Guest chef Will Michell and wine commentator Stephen Morris
Recipes:
11:45 Urbanist Tommy Honey
Economies and Scale: Shanghai and Las Vegas.