Nine To Noon for Friday 1 June 2012
09:05 The country's biggest private sector union says employees could walk off job if their workplaces aren't quake-safe
David Lowe, manager of advisory services for the Employers and Manufacturers Association; Susan Hornsby-Geluk, employment lawyer at Chen Palmer in Wellington; and Connal Townsend, CEO of the Property Council, which represents property owners and developers.
09:30 A Canadian mother who has launched a successful career bringing children's drawings to life.
Vancouver mother Wendy Tsao, who wanted to find the perfect comfort toy for her four-year-old son Dani, found inspiration by rifling through his stacks of drawings and from a sketch made a soft, familiar and three-dimensional friend. It led to her launching her own business, Child's Own Studio, which makes toys inspired by the scribbles of girls and boys.
Gallery: Cuddly Toys - A Child's Own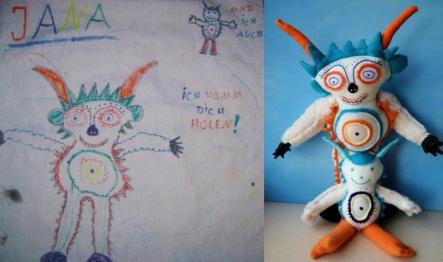 09:45 Asia correspondent Greg Torode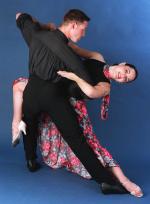 10:05 Dr David Garrett - developing a bionic eye
Former competitive ballroom dancer, turned high end London caterer, Dr David Barret is now a research fellow at Melbourne University School of Physics and part of a team working on a bionic eye prototype.
Right: David Garrett and dance partner Sarah Gilligan practising in Christchurch in 1998.
Credit: Fairfax Media / The Press
10:35 Children's Book Review with John McIntyre
Demolition by Sally Sutton, illustrated by Brian Lovelock
Walker Books
ISBN 97-1-921529-26-9
Farmer John's Tractor by Sally Sutton, illustrated by Robyn Belton
Walker Books
ISBN 879-1-921150-94-4
What's The Matter, Auntie May? by Peter Friend, illustrated by Andrew Joyner
Little Hare
ISBN 978-1-921714-53-5
10:45 Reading: Leap, by Shelly Davies
Read by Kura Forrester
A leap tide comes up beyond the normal high tide mark, killing off grass and leaving dead fish. He says she's like a leap tide but she discovers that it is he who is like the tide.
11:05 Music review with Sean McKenna
Edward Sharpe & the Magnetic Zeros, Melody Gardot, Sigur Ros and Rumer.
Artist: Edward Sharpe & the Magnetic Zeros
Town of Songs
Album: Here
Song: Man on Fire
Label: Rough Trade
Composer: Edward Sharpe & the Magnetic Zeros
Artist: Melody Gardot
Album: The Absence
Song: Mira
Label: Verve
Composer: Gardot
Artist: Sigur Ros
Album: Valtari
Song: Varud
Video: Ég Anda
Label: Krunk
Composer: Sigur Ros
Artist: Rumer
Album: Boys Don't Cry
Song: Sara Smile
Label: Atlantic
Composer: Hall/Oates
11:30 Sports commentator Richard Boock
11:45 The Week That Was with James Elliot and Michele A'Court