Nine To Noon for Monday 5 March 2012
09:05 Soaring debt of the country's councils
The level of councils' debt quadrupled over the past decade to nearly $8 billion. The figure has alarmed groups like Federated Farmers which says its out of hand and reform of local government is needed.
Larry Mitchell, an independent finance and policy consultant in local government; and Michael Reid, manager of governance for Local Government NZ.
09:30 Stopping the summer reading slide
Massey University literacy specialist Professor Tom Nicholson, who has set up a programme that saw 11,000 free books delivered to 600 year-three children in Auckland over the summer holidays.
09:45 Europe correspondent Seamus Kearney
The lack of surprise in Russia as Vladimir Putin claims victory in the presidential election.
10:05 Human rights worker/UN peacekeeper Marianne Elliot
Marianne Elliott is a writer, human and environmental rights advocate and international yoga instructor. Trained as a lawyer, Marianne led the creation of the Action Plan for Human Rights in New Zealand. She spent two years working in human rights in the Gaza Strip prior to her time with the UN in Afghanistan.
Zen Under Fire by Marianne Elliott
Published by Penguin
10:35 Book Review with Siobhan Harvey
The Day She Cradled Me by Sacha de Bazin
Published by Random House NZ / Black Swan
10:45 Book Reading: Still Alive by Panni Thomas & Pauline Cartwright

Despite huge loss and hardship, Panni Thomas, now living in Central Otago's Alexandra, survived the Khmer Rouge rule in Cambodia.
11:05 Political commentators Matthew Hooton and Mike Williams
Industrial unrest, welfare reforms and Winston Peter's performance in parliament.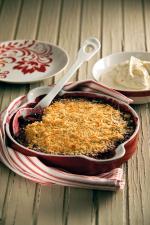 11:30 Guest chef Jax Hamilton
Runner up in 2011 NZ Masterchef on her new cookbook, Jax Cooks Great Food for Family and Friends.
Recipes:
Pork Loin Chops with Maple Syrup Glaze & Candied Apples
Coconut & Berry Crumble with Rum Mascarpone (right - Photograph © David Baird)
11:45 Off The Beaten Track with Kennedy Warne
Paper wasps and the 'King of Sting'.