Nine To Noon for Friday 23 December 2011
09:05 Highlights and lowlights of 2011
Nine to Noon commentators Richard Boock, Jane Bowron, Gavin Ellis, Matthew Hooton, Rod Oram and Mike Williams wrap the year by looking back on the key events of 2011 in the worlds of sport, business, politics and the media.
09:17 The physics of Christmas
Roger Highfield, UK science writer and author of The Physics of Christmas.
09:35 102-year-old recipient of an Outstanding Older Worker Award
Hedda Bolgar was recently honoured in Washington, D.C., where she received one of two Outstanding Oldest Worker Awards given this year by the organisation Experience Works.
09:50 Levi Hawken - the "nek minnit" internet sensation
The 'Nek Minnit' guy - Levi has spawned a cultural phenomenon with his catchphrase - see the original video.
10:05 Big Year Interview - Roger Sutton
In the final interview of our end of year series, the head of the Canterbury Earthquake Recovery Authority, Roger Sutton discusses the huge challenges the region has faced, and his hopes for the future.
10:40 Best Christmas music with Chris Bourke
Track: Jingle Bells – s2 tk3
Artist: Booker T & the MGs
Album: Soul Christmas
Composer: trad arr Booker T
Label: Atlantic

Track: Santa Claus is Comin' to Town – tk 2
Artist: Jackson 5
Album: Christmas Album
Composer: Gillespie-Coots
Label: Motown

Track: Christmas is a Comin' – tk 3
Artist: Leadbelly
Album: Where Will You Be on Christmas Day?
Composer: Leadbelly
Label: Dust to Digital

Track: Christmas Piece for LB – tk 8
Artist: Dan Poynton
Album: Complete Piano Music Vol 1
Composer: Douglas Lilburn
Label: Morrison Music Trust

Track: Backdoor Santa – s1 t1
Artist: Clarence Carter
Album: Soul Christmas
Composer: Carter-Daniel
Label: Atlantic

Track: Santa Bring My Baby Back (to Me) – s1 tk 6
Artist: Elvis Presley
Album: Elvis' Christmas Album
Composer: Schroeder-DeMetrius
Label: RCA

Track: Santa Claus Go Straight to the Ghetto – s1 tk1
Artist: James Brown
Album: Santa's Got a Brand New Bag
Composer: Bobbitt-Ellis-Ballard
Label: Rhino

Track: Boogie Woogie Santa Claus – tk 15
Artist: Patti Page
Album: Christmas with Patti Page (Santassortment 2008)
Composer: Leon Rene
Label: Polygram

Track: Christmas Must Be Tonight – tk 5
Artist: the Band
Album: Islands
Composer: J Robbie Robertson
Label: Capitol

Track: How to Make Gravy – tk 12
Fade up at 0.15, fade down at 4.25
Artist: Paul Kelly
Album: The A to Z Recordings
Composer: Paul Kelly
Label: Gawd Aggie

Track: Sleigh Ride –s1 tk 5
Artist: the Ronettes
Album: A Christmas Gift for You From Phil Spector
Composer: Anderson-Parish
Label: Phil Spector International
11:05 Nota Bene
Carols sung by Wellington-based choir Nota Bene.
11:10 Highlights and lowlights of 2011
Nine to Noon's contributors Kennedy Warne, Pinky Agnew, Tommy Honey, Radar and  Courtney Johnston take you off the beaten track in a look back at the year that was.
11:20 Nota Bene
Carols sung by Wellington-based choir Nota Bene.
11:25 World record-winning Christmas light display
Canberra-based David and Janean Richards this month set the Guinness World Record for the most lights on a residential property.
Gallery: the winning light display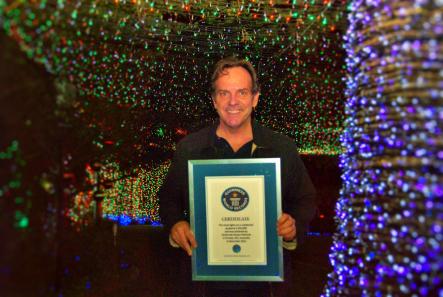 David Richards with his certificate.
11:30 Nota Bene
The First Nowell - arranged by leading NZ choral composer David Hamilton.
11:35 Franki Wood
Nonagenerian dynamo, romance writer, musician and puppeteer.
11:57 Nota Bene
I'll be Home for Christmas - Jo Hodgson soloist.
11:55 Christmas Greetings and farewells