Nine To Noon for Thursday 24 November 2011
09:05 Political party leader interview
Phil Goff, Labour party leader.
09:45 Slave free seas
A group of lawyers and other advocates in New Zealand has set up the Slave Free Seas Trust - to push for more human rights protection for crew members and ensure the perpertrators are brought to justice. Kathryn speaks to Tauranga Barrister Craig Tuck, one of the founding members of the trust.
09:45 UK correspondent Kate Adie
The Leveson inquiry into issues arising from the phone hacking scandal and what happened to the English Rugby team at the World Cup.
10:05 Prehistoric New Zealand
Paleo-zoologist Trevor H Worthy looks back on New Zealand's fascinating prehistoric past - from the tropical superlake that covered Otago to the birds, bats, lizards and crocodiles that inhabited the region.
Gallery: what Otago might have looked like 19 million years ago.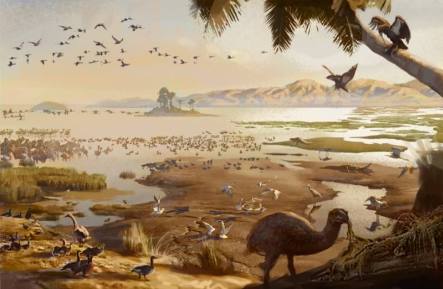 Otago as it might have looked like 19 million years ago. Image by Thomas Simpson courtesy of Thomas Simpson / New Zealand Geographic.
10:35 Book Review with Harry Broad
Digging up the Past: Archaeology for the Young and Curious by David Veart
Published by Auckland University Press
10:45 Reading: Treading Water by Robert Hewitt  with Aaron Smale (Part 2 of 7)
Some insights into the search and rescue process and details Rob's changing perspective on life as he faces losing his own.
Audio will be available here after broadcast.
11:05 New Technology with Donald Clark
Online reviews.
11:20 Parenting with Nigel Latta
Clinical psychologist Nigel Latta discusses children and after school activities.
11:45 Film reviewer Dan Slevin 
When a City Falls, Rest for the Wicked and Project Nim.