Nine To Noon for Wednesday 23 November 2011
09:05 Political party leader interview - John Key
Kathryn Ryan speaks to National party leader John Key.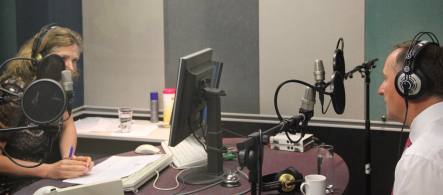 Kathryn Ryan and John Key in the Radio New Zealand studio. PHOTO: Radio New Zealand.
09:35 The Koha trademark controversy
A Horowhenua library is in a legal battle with US corporate over the trademarking of the word 'koha' and an open-source library system developed in New Zealand.
Rick Shera is a partner at Lowndes Jordan law firm.
Koha Library Software Community
09:45 Australia correspondent Karen Middleton, chief political correspondent for SBS Television
How Prime Minister Julia Gillard's poll ratings are beginning to turn as parliament enters its final week of the year.
10:05 Dr Francine "Penny" Patterson - co-founder of The Gorilla Foundation
Dr Penny Patterson is the president, director of research and co-founder of The Gorilla Foundation. Penny has worked with the gorilla Koko for 40 years and started her teaching sign language when she was one year old. Koko now has a working vocabulary of more than 1000 signs and understands around 2000 words of spoken English. It's the longest interspecies communication study ever undertaken.

Koko signs 'necklace' while wearing lei and bag. Image courtesy of The Gorilla Foundation.
10:25 Book Review with Sonja de Freiz
Beat Till Stiff: A Woman's Recipe for Living by Peta Mathias
Published by Penguin
10:45 Reading: Treading Water by Robert Hewitt  with Aaron Smale (Part 1 of 7)
Marking Water Safety week with Rob Hewitt's story of surviving 75 hours floating alone at sea in the waters around Kapiti Island.
Audio will be available here after broadcast.
11:05 Marty Duda's Artist of the Week
Blues and R&B singer Etta James has just released a new album called The Dreamer, which will most likely be her last due to several illnesses she is suffering including Alzheimers. Marty takes us to 1954 and her first recording and features her rendition of I'd Rather Go Blind.

1. The Wallflower (Roll With Me Henry) (2:56) - Etta James & The Peaches taken from 1954 single (Modern)
2. I'd Rather Go Blind (2:32) - Etta James taken from 1968 album, "Tell Mama" (Chess)
3. I Worship The Ground You Walk On (2:25) - Etta James taken from 1968 single (Chess)
4. Too Tired (2:32) - Etta James taken from 2011 album, "The Dreamer" (Verve/Forecast)
11:30 Law commentator Andrew Scott Howman
Mental harm in the workplace.
11:45 Science commentator with David Haywood
Should we believe the "margin of error" number stated on opinion polls and the implications of this for the NZ election.