Nine To Noon for Wednesday 6 July 2011
09:05 Labour's plan to introduce a capital gains tax
Geoff Nightingale, PricewaterhouseCoopers tax partner, who on the Government's Tax Working Group, talks about the pitfalls of Labour's proposal to introduce a capital gains tax of about 15 per cent on the sale of investment properties.
A Tax System for New Zealand's Future: Report of the Victoria University of Wellington Tax Working Group.
09:20 Political commentators Matthew Hooton and Sue Bradford debate the political impact of Labour's new tax policy
09:35 Crime prevention through environmental design
Chris Butler, urban designer with Harrison Grierson and worked recently on crime prevention design projects for Whangarei, Manukau and Maraenui in Napier. He is a member of CPTED - Crime Prevention Through Environmental Design; and Laurie Gabites, NZ's regional director for international CPTED and  a former police officer who works part-time for the Wellington City Council in a safety capacity.
09:45 Australia correspondent Ray Moynihan
10:05 Sarah Hudson - artist and roller derby skater
Sarah Hudson (Ngāti Awa, Tūhoe) completed a Masters in Fine Arts with high distinction through Massey University, Wellington in 2009 and was the first Fine Arts student to be awarded the Whakatāne Historical Society Scholarship.
See Sarah Hudson's work Maori Beauty, from the exhibition Maiden Aotearoa.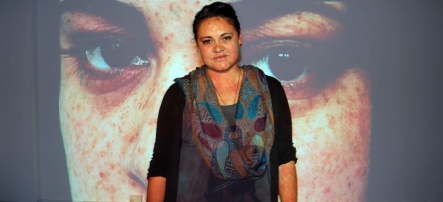 Sarah Hudson.
10:30 Book review with John King
Blue Collar, White Collar, No Collar: Stories of Work by Richard Ford
Published by HarperCollins
10:45 Reading: Dead People's Music by Sarah Laing (part 13 of 15)
The lives of two talented cellists, Klara from 1930s New York, and Rebecca her New Zealand born granddaughter, entwine and enthral.
11:05 Marty Duda's Artist of the Week - Thin Lizzy
Formed in Belfast, Ireland in 1969, Thin Lizzy became one of the premiere hard rock bands of the 1970s thanks to their 1976 album Jailbreak and its breakthrough hit single The Boys Are Back In Town. Lead by Phil Lynott, the band, featuring its unique twin guitar attack, rocked on till 1983. Lynott died a few years later. Three of their prime albums have just been reissued as Deluxe Editions.
1. Whiskey In The Jar – Thin Lizzy taken from 1972 single (Mercury)
2. The Boys Are Back In Town – Thin Lizzy taken from 1976 album "Jailbreak" (Mercury)
3. Cowboy Song – Thin Lizzy taken from 1978 album "Live And Dangerous" (Warners)
4. Got To Live It Up – Thin Lizzy taken from 1979 album "Black Rose: A Rock Legend" (Warners)
Marty's website is www.13thfloor.co.nz
11:30 Legal commentator Andrew Scott Howman
11:45 Arts commentator Courtney Johnston
Courtney visits Europe in Melbourne, at the National Gallery of Victoria's winter exhibition extravaganza, Vienna: Art & Design, and Mattel's release of a Klimt Barbie.
See images in the Vienna: Art & Design gallery.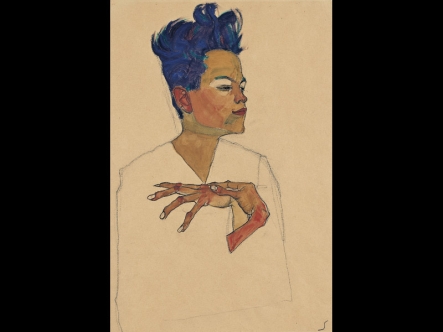 Egon SCHIELE Austria 1890–1918 Self-portrait with hands on chest 1910 charcoal, watercolour and gouache 44.8 x 31.2 cm Kunsthaus Zug, Stiftung Sammlung Kamm EXHI013493 – reference only.