Nine To Noon for Monday 9 May 2011
09:05 Possible cause of death of New Zealander in Thailand
A banned chemical from an insecticide that kills bed bugs could be behind the deaths of New Zealand woman Sarah Carter and three others in Thailand. Richard Carter, father of Sarah Carter.
09:25 Autism and the justice system
Alison Molloy, CEO of Autism NZ and Simon Buckingham, lawyer representing clients on the autism spectrum.
09:45 Europe correspondent Seamus Kearney
10:05 Ken Morse - How New Zealand companies can grow their businesses internationally
Ken Morse is the founding Managing Director of the MIT Entrepreneurship Center and is an advisor to Barack Obama on the National Advisory Council on Innovation & Entrepreneurship. He is in NZ to run workshops for companies wishing to succeed globally.
www.entrepreneurshipnewzealand.com
10:30 Book Review with Louise O'Brien
Love in the Years of Lunacy by Mandy Sayer
Published by Allen and Unwin
10:45 Reading: Mother's Surprise by Shirley Eng
The fourth in our Mum's the Word series of short stories about mothers.
In her final days, mother still has a few surprises for her daughters. Read by Danielle Mason.
11:05 Political commentators Matthew Hooton and Mike Williams
11:30 Guest chef Paul Jobin
Quick recipes reflecting cheaper cuts of meat - Ginger Corned Beef, and Slow Cooked Pork Belly and how best to cook them; plus a recipe for Dark Little Chocolate Cakes as the dessert. John Hawkesby selects wines to match.
A Pinch of Salt: Celebrating NZ Food by Paul Jobin
HarperCollins Publishers
11:45 Off The Beaten Track with Kennedy Warne
At the Feria de Abril 2011, Seville:
http://www.youtube.com/watch?v=fSnQM5VBOFo
http://www.youtube.com/watch?v=h3cFr3II8TU
http://www.youtube.com/watch?v=5AKpPE6VrEA
See images in the Kennedy Warne gallery.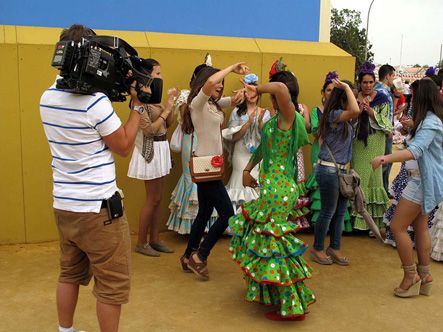 Flamenco dancing at the fair