Nine To Noon for Friday 11 March 2011
09:05 EQC cap on emergency repairs
Barry McArther, Shirley resident; Mark Whitehead, President of Master Plumbers, Gasfitters & Drainlayers; and Warwick Quinn, President of Master Builders.
09:25 Charity cricket match at the Basin Reserve
Cricketing stars Stephen Fleming and Nathan Astle on recruiting Shane Warne, and actors Ian McKellen and Russell Crowe for an earthquake charity match in Wellington this weekend.
09:35 Greening Waipara
Professor Steve Wratten, founder of Greening Waipara - a 'grape roots' project investigating the use of biological controls in wineries as an alternative to chemical sprays and to build greater environmental resistance to pests and diseases; Jean-Luc Dufour, vineyard manager at Mud House winery.
09:45 Pacific correspondent Mike Field
The Samoan election results and the rather downbeat outlook for the Pacific economy.
10:05 Eric Guth - glacier photographer
See Eric's images in our gallery.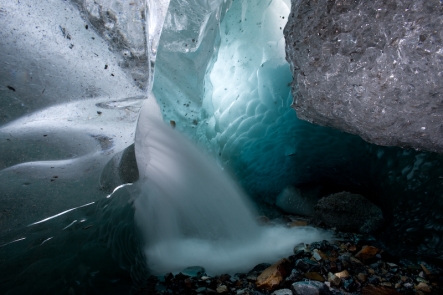 Summer melt water pours into a glacial cave with the force of an open fire hydrant. Viedma Glacier, Patagonia. Photograph by Eric Guth.
10:30 Children's Book Review with John McIntyre
Smiling Jack by Ken Catran
Published by Harper Collins
ISBN 978-1-86950-812-8
Sensational Survivors: An illustrated guide to New Zealand's remarkable wildlife by Sandra Morris
Published by Walker Books
ISBN 978-1-921150-66-1
Finnigan & The Pirates by Sheryl Jordan
Published by Scholastic
ISBN 978-1-86943-927-9
10:45 Reading:Hello Dubai, written & read by Joe Bennett (Part 5 of 10)
Joe Bennett goes to a New Year's Eve party in the desert.
11:05 New Music with Sean McKenna
Artist: REM
Album: Collapse Into Now
Song: Uberlin
Videos: Uberlin
Walk It Back
Alligator Aviator Autopilot Antimatter
Artist: Carolina Moon
Album: Mother Tongue
Song: Yo Hanino, tu hanina
Artist: Creole Choir of Cuba
Album: WOMAD Sounds of the Planet 2011 - Various Artists
Song: Edem Chante
Video:Creole Choir Of Cuba
Artist: Imelda May
Album: Mayhem
Song: Mayhem
Video: Mayhem
Christchurch Earthquake Fundraiser Benefits
Download free solo songs by Robin Pecknold, lead singer of Fleet Foxes
11:30 Sports commentator Joseph Romanos
11:45 Week That Was with Radar and Gemma Gracewood