Nine To Noon for Tuesday 6 April 2010
09:05 Leaky buildings no quick fix
The government's admitted the leaky building crisis might be too big for it to fix - and now the head of the Building Disputes Tribunal says the bill could cost as much as 23 billion dollars, more than twice the official estimation.
John Green, principal adjudicator of the Building Disputes Tribunal; and a North Shore leaky homeowner.
09:20 Education - how to study and achieve
Dorothy Vinicombe, a teacher at Carmel College, on Auckland's North Shore and the co-author of a book Max Your Marks: tips from top students on how to conquer Year 13; with Heath Vinicombe, 19, who was a top 10 New Zealand scholar in his final year at school, now studying engineering; and Harriet Rogers, 19 years old now in 2nd year of BA Auckland University.
Max Your Marks: tips from top students on how to conquer year 13
Published by Allen and Unwin
09:45 USA correspondent Luiza Savage
10:05 Father John Glynn
Father John Glynn is an Irish priest who's lived and worked in Papua New Guinea for 46 years. Father Glynn discusses his work with orphans and abandoned children there, and how he and other ordinary frontline members of the clergy are dealing with the fallout of the international Catholic Church abuse scandals.
10:30 Book Review with Carole Beu
Still Alice by Lisa Genova
Published by Pocket UK
10:45 Reading: Where Underpants Come From by Joe Bennett (Episode 5 of 12)
Joe experiences the perils and the joys of dining alone in a Shanghai restaurant.
11:05 Politics with Andrew Campbell and Matthew Hooten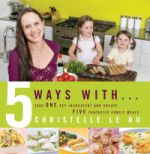 11:30 Guest chef Christelle Le Ru and wine commentator John Hawkesby
Christelle Le Ru, author of 5 Ways With ... Take one ingredient and create five fantastic family meals, published by HarperCollins
Featured recipes: Chicken and Potato Soup and Lemon and Polenta Cupcakes
11:45 Off the Beaten Track with Kennedy Warne
Kennedy Warne, outdoorsman and adventurer Kennedy Warners explores the frontier where adventure meets food: edible wild fungi.
View a higher resolution version of Kennedy's poster (1,100 KB)