Cyclocross
From the Cycling collection and Nights 9 September 2013
Cyclocross, CX, CCX, cyclo-X or 'cross' is a form of bicycle racing. The sight of competitors struggling up a muddy slope with bicycles on their shoulders is the classic image of the sport. NZ competitor Alex Revell is a favourite in Belgium.
The images in this gallery are used with permission and are subject to copyright conditions.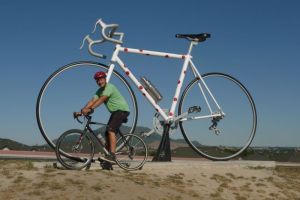 This Way Up host Simon Morton by the big bicycle sculpture in Taupo.
Photo galleries
Links