Nights for Tuesday 13 October 2015
7:10 Our Own Odysseys - Mount Erebus
Currently a postdoctoral researcher at University of New Mexico in Albuquerque, Cantabrian Tehnuka Ilanko has spent the few years investigating an active lava lake at the summit crater of Antarctica's ice-covered volcano, Mount Erebus.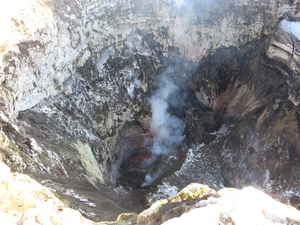 7:30 The Sampler
A weekly review and analysis of new CD releases - with Jim Pinckney aka Stinky Jim filling in for Nick Bollinger
8:10 Windows on the World
International public radio documentaries - visit the Windows on the World web page to find links to these documentaries.
8:40 Pundit - Kai-A-Miro
'Eating the berry' with Shannon Haunui-Thompson from Radio New Zealand's Te Manu Korihi team; from the proverb 'Ko te Manu kai Ana I te Miro nona te Ao' (the Bird that eats the Berry owns the World), encapsulating the idea of a seed when eaten gives insight to the one who consumes it. The long wait for a Tūwharetoa chief to be returned home to Waitetoko near Taupō continues as attempts to locate his remains for exhumation have stalled...
9:06 Tuesday Feature: The Age of Resilience with Kim Hill: An Economic Conundrum 
10:00 Late Edition
A review of the news from Morning Report, Nine to Noon, Afternoons and Checkpoint. Also hear the latest news from around the Pacific on Radio New Zealand International's Dateline Pacific.
11:06 World Music - The Global Village​