Nights for Tuesday 7 April 2015
7:12 PM.Car enthusiast Brian Cowan wasn't at all put out when he needed to take an unplanned road trip from Rome to Frankfurt to catch a flight back home to New Zealand. Audio

8:42 PM.The rationales of individual freedom and personal responsibility with Eric Crampton, head of research at The New Zealand Initiative, the case for economic growth. Audio
7:10 Our Own Odysseys - Baggage handler's strike
Car enthusiast Brian Cowan wasn't at all put out when he needed to take an unplanned road trip from Rome to Frankfurt to catch a flight back home to New Zealand.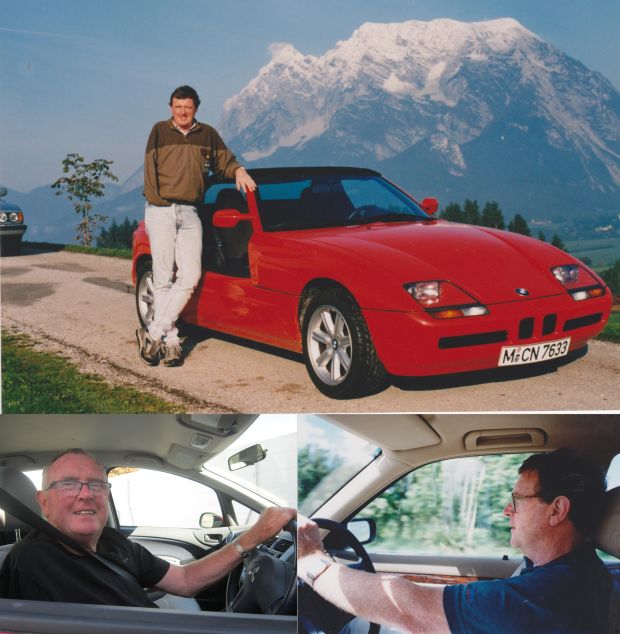 Bryan Cowan and cars from years past, top: 1980s, bottom left: now, bottom right: 1990s
7:30 The Sampler
A weekly review and analysis of new CD releases.
8:10 Windows on the World
International public radio documentaries - visit the Windows on the World web page to find links to these documentaries.
8:40 Right thinking
The rationales of individual freedom and personal responsibility with Eric Crampton, head of research at The New Zealand Initiative, the case for economic growth.
9:06 The Tuesday Feature: Meg Wolitzer with Kate de Goldi
A leading USA novelist places her book The Interestings within a life of writing (4 of 5, RNZ)
10:00 Late Edition
A review of the news from Morning Report, Nine to Noon, Afternoons and Checkpoint. Also hear the latest news from around the Pacific on Radio New Zealand International's Dateline Pacific.
11:06 Global Village
A selection of world music along with jazz, rock, folk and other styles, artists and songs with world and roots influences chosen and presented by Wichita radio host Chris Heim (2 of 13, KMUW).