Nights for Tuesday 31 March 2015
7:10 PM.Heather Hapeta went on an Odyssey to Thailand in search of likenesses of the Buddha - but she kind of bit off a bit more than she could chew. Read more Audio

8:40 PM.Politics with Rupa Jha, and the French mystical christian socialism of the thinker Simone Weil with Ann Kerwin. Audio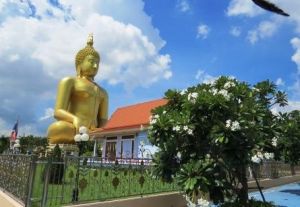 7:10 Our Own Odysseys - Giant Buddha
Travel writer Heather Hapeta recently visited rural Thailand and not only became acquainted with one of the world's largest statues of the Buddha, she was introduced to the Buddhist concept of Hell.
Gallery: Thailand's Giant Buddha
7:30 The Sampler
A weekly review and analysis of new CD releases.
8:10 Windows on the World
International public radio documentaries - visit the Windows on the World web page to find links to these documentaries.
8:40 Philosophy
Philosopher at large Ann Kerwin muses often on why we think what we do. French philosopher of the mid-twentieth century, Simone Weil.
9:06 The Tuesday Feature: Luke Harding with Toby Manhire
The Guardian journalist talks about the extraordinary story of whistleblower Edward Snowden at the WORD Christchurch Writers and Readers Festival (2 of 5, RNZ)
10:00 Late Edition
A review of the news from Morning Report, Nine to Noon, Afternoons and Checkpoint. Also hear the latest news from around the Pacific on Radio New Zealand International's Dateline Pacific.
11:06 Global Village
A selection of world music along with jazz, rock, folk and other styles, artists and songs with world and roots influences chosen and presented by Wichita radio host Chris Heim (1 of 13, KMUW).