Nights for Wednesday 9 April 2014
7:10 Baring Modern Bottoms
Does My Bum Look Big in this Documentary? will be a contemporary look at the derriere - with Melbourne comedian and entertainer Anna Achia a.k.a. Anna Go-Go.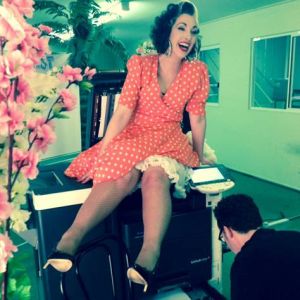 Anna about to have her bum photocopied for the pitch video. Showbiz is a difficult mistress.
7:30 Spectrum
People, places and events in New Zealand.
8:15 Windows on the World
International public radio documentaries - visit the Windows on the World web page to find links to these documentaries.
8:40 Arts Ambassador - Poetry with Cliff Fell
NMIT creative writing educator Cliff Fell recites the influence of the "classic" poems and poets – Dante, The Divine Comedy and its influence on subsequent western poetry.
9:06 The Wednesday Drama
The Russian Gambler, by Dolya Gavanski (1 of 2, Goldhawk)
10:00 Late Edition
A review of the news from Morning Report, Nine to Noon, Afternoons and Checkpoint. Also hear the latest news from around the Pacific on Radio New Zealand International's Dateline Pacific.
11:06 Jazz-O-Rama - Louis Armstrong, Ella Fitzgerald, Fats Waller & Mildred Bailey
Fats Waller, born Thomas Wright Waller, was a jazz pianist, organist, composer, singer and comedic entertainer. Waller was one of the most popular performers of his era, finding critical and commercial success in his homeland and in Europe. Louis Armstrong, nicknamed Satchmo or Pops, was an American jazz trumpeter and singer from New Orleans, Louisiana. He was renowned for his charismatic stage presence and voice almost as much as for his trumpet-playing. Ella Jane Fitzgerald, also known as the "First Lady of Song", "Queen of Jazz" and "Lady Ella", was an American jazz and song vocalist. With a vocal range spanning three she was noted for her purity of tone, impeccable diction, phrasing and intonation and a "horn-like" improvisational ability, particularly in her scat singing. Mildred Rinker Bailey was a popular and influential American jazz singer during the 1930s, known as "The Queen of Swing", "The Rockin' Chair Lady" and "Mrs Swing" (F, PRX)