Nights for Monday 25 November 2013
7:15 Sport - Australia
ABC sports journalist Paul Kennedy is keeping score across the ditch Tonight, the Ashes; and is golfer Adam Scott the next Greg Norman - is there finally someone to fill the the Great White Sharks's boots?
7:30 Insight
8:15 Windows on the World - Brand China
For 30 years the Chinese model has been one of manufacturing products designed elsewhere, and exporting them cheap. And yet, studies have shown that very few people in America or Europe can name a Chinese brand. But is that about to change. Peter Day hears about the brands aiming to be global household names. Huawei, Shang Xia and Xiaomi are examples of brands at the heart of key changes in the Chinese economy.
8:40 Pundit - Economics
Economic historian & NBR Columnist Dr Neville Bennett with ideas as to where the money is. Tonight, how will free trade agreements affect wages; and how do you lower a nation's debt without destroying economic growth?
9:10 The Monarch Mission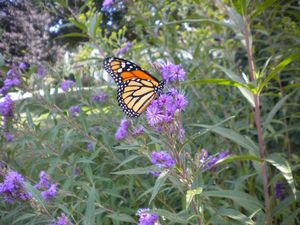 Director of Conservation Biology at the University of Minnesota Professor Karen Oberhauser on the decline of the monarch butterfly population in the United States, and a recent survey that is giving hope, with citizen scientists keen to take a role in their conservation.
Link: Monarch Joint Venture
10:00 Late Edition
A review of the news from Morning Report, Nine to Noon, Afternoons and Checkpoint. Also hear the latest news from around the Pacific on Radio New Zealand International's Dateline Pacific.
11:06 Full-Time Blues Radio New music with a vintage soul and R&B sound
The home for new and independent blues music.This weekly show is hosted by 'Johnny Full-Time' and features an hour of the best in blues, with news, new releases and interviews. The premise of the programme is to provide a platform for the next generation of blues legends. (PRX)
In recent years, the mainstream success of artists like Amy Winehouse, Sharon Jones and the Dap Kings, Eli "Paperboy" Reed, and others, has refreshed the popularity of this genre of music. In tonight's programme of new, original music recorded with a classic vintage soul and R&B sound you'll hear tunes from JD McPherson, John Nemeth, and Curtis Salgado, along with many more artists creating amazing music that sounds like it stepped out of another era.
For more information visit the PRX webpage for this episode