Nights for Wednesday 18 September 2013
7:10 Waving the Wand on Wagner
Young Australian director Matthew Lutton talks about what it's taken to produce New Zealand's first fully staged Wagner opera in over 20 years, The Flying Dutchman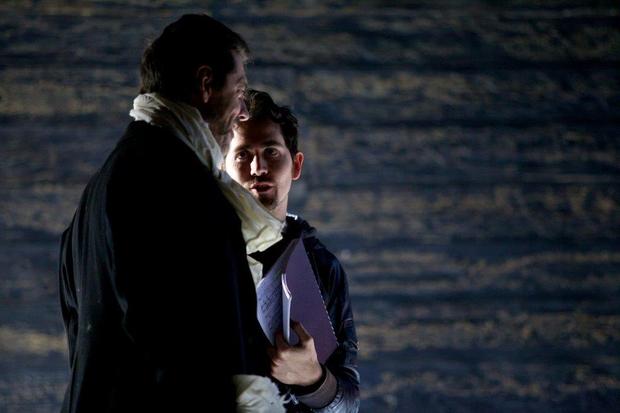 Welsh baritone Jason Howard and director Matthew Lutton. (Photo by Neil Andrews)
7:30 Spectrum
People, places and events in New Zealand.
8:15 Windows on the World
International public radio documentaries - visit the Windows on the World web page to find links to these documentaries.
8:40 Arts - Pasifika
Samoan/Pakeha playwright and independent theatre producer Leilani Unasa sways with the contemporary arts and culture scene around the Pacific. Today, reaction to the recent announcement that Te Papa North will be built in Manukau.
9:06 The Wednesday Drama - Te Wherowhero (Part 12 of 15)
The story of the warrior who became the first Maori King, adapted from King Potatau: An Account of the Life of Potatau Te Wherowhero the First Maori King by Pei Te Hurinui and read by Selwyn Muru and Rangi Chadwick.
9:30 Outspoken
A series of half-hour current affairs programmes, featuring Radio New Zealand's most experienced correspondents.
10:00 Late Edition
A review of the news from Morning Report, Nine to Noon, Afternoons and Checkpoint. Also hear the latest news from around the Pacific on Radio New Zealand International's Dateline Pacific.
11:06 New Jazz Archive: Charlie Parker
Delving into the many shades of jazz. Digging in the archives and selecting from the standards and classics to the modern masters and future movers and shakers.
This week, historian Phil Schaap explores Charlie Parker's life and music – from his early years as a Kansas City kid who didn't like to practice to his coronation in the 1950s as the king of bebop (PRX)