Nights for Tuesday 18 June 2013
7:10 Our Own Odysseys - Convention Experience
Enthusiasm for all things sci-fi, fantasy and horror has meant that Norman Cates has attended a variety of large-scale fan conventions.
Gallery: Norman Cates at fan conventions
Links:
Science Fiction and Fantasy Assocation of New Zealand Inc.
Au Contraire - the national science fiction convention
NZ's bid for the 78th World Science Fiction Convention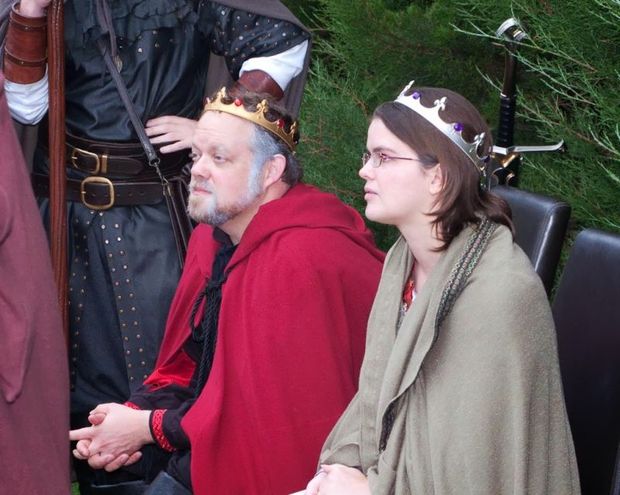 Norman Cates playing King Arthur, with his queen, Guinevere, played by Jenni Sands.
7:30 The Sampler
A weekly review and analysis of new CD releases.
8:15 Windows on the World
International public radio documentaries - visit the Windows on the World web page to find links to these documentaries.
8:40 Global Neighbours - Denmark
Reporting from the Scandinavian island nation of Denmark (estimated population 5,580,413 in 2012) is New Zealand-born Copenhagen Post correspondent, Claire Clausen. The Danish summertime, political discontent, unfashionable windmills and Scandinavian royal weddings.
9:06 The Tuesday Feature: Burma - What Future?
Presenter Nik Gowing chairs a  BBC World Debate recorded in Nay Pyi Taw in Myanmar (Burma), during the World Economic Forum on East Asia.
See the BBC website for this programme
10 pm Late Edition
A review of the news from Morning Report, Nine to Noon, Afternoons and Checkpoint. Also hear the latest news from around the Pacific on Radio New Zealand International's Dateline Pacific.
11:06 Global Village with Chris Heim
An eclectic, world music-based show featuring the latest and best in world music new releases and classics along with a wide variety of artists and selections from other genres that have influences from around the world.  (KMUW)