Nights for Tuesday 12 March 2013
7:10 Our Own Odysseys - Pre-Russian Afghanistan
With an Australian boyfriend in tow, Julie Baga travelled through Afghanistan while en route from Greece to India, that was in 1976, before the Russian invasion of 1979.
Gallery: Julie Baga in Afghanistan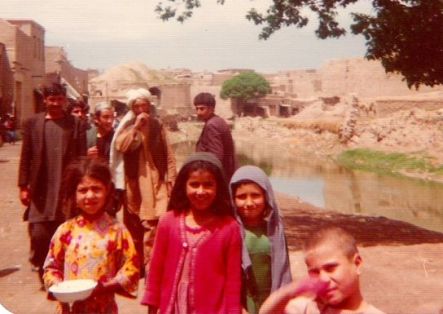 Curious children in the marketplace at Herat. Photograph courtesy of Julie Baga.
7:30 The Sampler
A weekly review and analysis of new CD releases.
8:15 Windows on the World
International public radio documentaries - visit the Windows on the World web page to find links to these documentaries.
8:40 Global Neighbours - Ghana
Former Radio New Zealand journalist Teresa Wyndham-Smith reports from the fourth largest city of the West African nation, the Republic of Ghana, pop. 24.2 million (2010 estimate)... why is the Ghanian diaspora returning; 56 years of indepedence was celebrated on 6 March; Ghana's very own Highlife music was celebrated with the first Ghana Music Week.
9:00 News and Weather
9:06 The Tuesday Feature: Big Data
A discussion series exploring the nature and implications of big data and how it may serve as a tool in facing the challenges of the current era, chaired by Kim Hill.
10:00 News and Weather
10 pm Late Edition
A review of the news from Morning Report, Nine to Noon, Afternoons and Checkpoint. Also hear the latest news from around the Pacific on Radio New Zealand International's Dateline Pacific.
11:06 The Putumayo World Music Hour
Rosalie Howarth hosts an internationally syndicated radio show that takes listeners on a weekly journey through the music of many different cultures around the world (Putumayo)