Nights for Wednesday 20 February 2013
7:10 War on Weeds
How the technology of unmanned aerial vehicles (as used by the military and to observe cricket matches) is also being used to produce maps of weeds invading the Australian landscape, with Charles Sturt University Spatial Science researcher Remy Dehaan.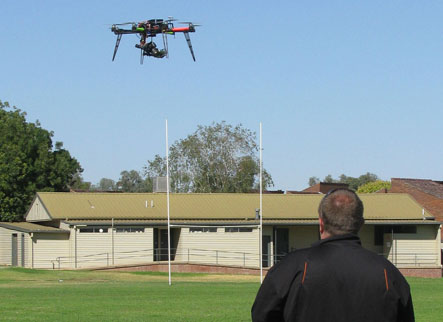 Remy Dehaan and his unmanned aerial vehicles
7:30 Spectrum
People, places and events in New Zealand.
8:00 News & Weather
8:15 Windows on the World
International public radio documentaries - visit the Windows on the World web page to find links to these documentaries.
8:40 Arts - Hip Hop
Ethnomusicologist Dr Kirsten Zemke from the University of Auckland on the musical genre that developed as part of hip hop culture, and is defined by four key stylistic elements: rapping, DJing/scratching, sampling, and beatboxing. Classic alternative hip hop tracks.
9:00 News & Weather
9:06 The Wednesday Drama
The Mumbai Chuzzlewits, by Charles Dickens (Pt 2 of 3, Goldhawk)
10 pm Late Edition
A review of the news from Morning Report, Nine to Noon, Afternoons and Checkpoint. Also hear the latest news from around the Pacific on Radio New Zealand International's Dateline Pacific.
11:00 News & Weather
11:06 Round Midnight
Delving into the many shades of jazz... digging in the archives and selecting from the standards and classics to the modern masters and future movers and shakers.