Nights for Friday 19 October 2012
8:06 AM.What instrument does King Homeboy play? Audio

8:50 PM.This weeks answer. Audio
7:06 Sonic Tonic
8:06 What's that instrument?
8:35 Essential New Zealand Albums
Music critic Nick Bollinger presents a selection of essential New Zealand albums adapted from his book 100 Essential Albums, published by Awa Press.
9 pm News and Weather
9:06 Country Life
Rural news and features.
10 pm News and Weather
10:17 Late Edition
A review of the leading news from Morning Report, Nine to Noon, Afternoons and Checkpoint. Also hear the latest news from around the Pacific on Radio New Zealand International's Dateline Pacific.
11 pm News and Weather
11:06 The Shed – A Whole New World of Music
Old-time string bands and high speed express trains on The Shed this week. Grammy award-winning US band Carolina Chocolate Drops discuss the state of US country music. Why is it so white? Former Mott The Hoople man, Ian Hunter, introduces a track from his new album When I'm President. There's new music from Cuba, Egypt, Colombia and Brazil, a sneak preview of Saturday night music TV in Cambodia... and especially for listeners in New Zealand, the inside of Mark Coles's shed at the bottom of the garden.
Gallery: Mark Coles's shed at the bottom of the garden
See the Public Radio Exchange website for this programme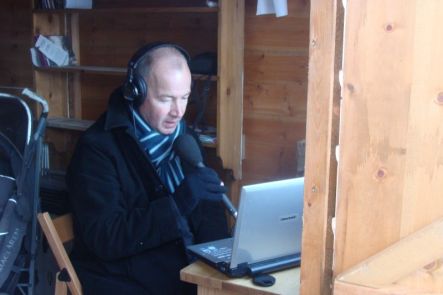 Mark Coles in his shed.