Nights for Tuesday 16 October 2012
7:10 Our Own Odysseys: Across The No-Go
Volunteer Services Abroad volunteer Janna Candy trekked for two days across four mountains through Bougainville's "no-go" Panguna area, and then headed onwards to remote Pomio on the south coast of East New Britain of Papua New Guinea.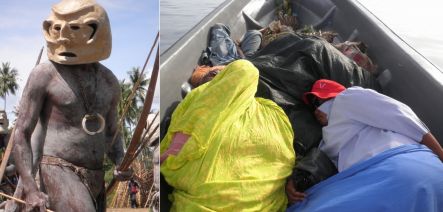 Across the No Go: Left - Asaro mudman at the East New Britain Mask Festival. Right: Hiding from the sun.
7:30 The Sampler
A weekly review and analysis of new CD releases.
8:15 Windows on the World
International public radio documentaries - visit the Windows on the World web page to find links to these documentaries.
8:40 The World At Night: Indonesia
Editor of Asia Calling Rebecca Henschke from the world's fourth most populous nation with the largest population of Muslims, the Republic of Indonesia, pop. 239,870,937 (est.2010)... the police are trying to crush the state anti-corruption commission's investigations into corrupt senior police; Jakarta has a new exciting governor, Joko Widodo; and the release of a film marking the anniversary of a mass murder spree in Indonesia in1965.
9:00 News and Weather
9:06 The Tuesday Feature: Smart Talk At The Auckland Museum
Finlay McDonald explores with psychologist Professor Michael Corballis, mental health expert Dr Janet Fanslow and composer Ruia Aperahama whether New Zealand is an angry society and if so, why?
10:00 News and Weather
10:17 Late Edition
A review of the leading news from Morning Report, Nine to Noon, Afternoons and Checkpoint. Also hear the latest news from around the Pacific on Radio New Zealand International's Dateline Pacific.
11:06 WOMAD Taranaki 2012
Performances from WOMAD Taranaki 2012.