Nights for Thursday 20 September 2012
7:10 Magnificent Moths
Dorset County Council's natural environment manager and ecologist Dr Phil Sterling along with Mark Parsons and painter Richard Lewington – their new book is The Field Guide to the Micro-Moths of Great Britain and Ireland. Phil discusses why he is a moth man and why these noctunal insects are a much under-rated creature.
Gallery: Micro-Moths of Great Britain and Ireland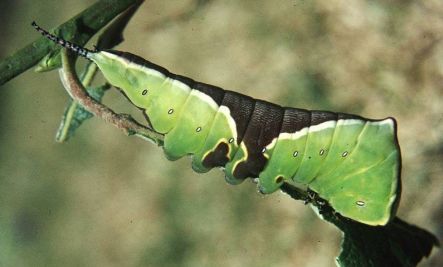 Puss Moth larva. Image courtesy of Phil Sterling.
7:30 At the Movies
Films and movie business with Simon Morris.
8 pm News & Weather
8:15 Windows on the World
International public radio documentaries - visit the Windows on the World web page to find links to these documentaries.
8:40 Science: Physics
Physicist from the MacDiarmid Institute for Advanced Materials & Nanotechnology,  Dr Shaun Hendy strips it back to basics to explain how the universe works... why do we have electromagnetism?
9 pm News & Weather
9:06 Our Changing World
Science and environment news from New Zealand and the world.
10 pm News & Weather
10:17 Late Edition
A review of the leading news from Morning Report, Nine to Noon, Afternoons and Checkpoint. Also hear the latest news from around the Pacific on Radio New Zealand International's Dateline Pacific.
11 pm News & Weather
11:06 The Music Mix
Nick Atkinson presents a contemporary music magazine with interviews and music from New Zealand and overseas artists, coverage of new releases, tours, live sessions, music festivals and events.