Nights for Tuesday 28 August 2012
7:10 Our Own Odysseys: Caribbean Cricket
In 1996, Hamish McDouall spent six weeks island hopping through the tropical West Indies following the New Zealand cricketers on tour.
Gallery: snapshots in the Caribbean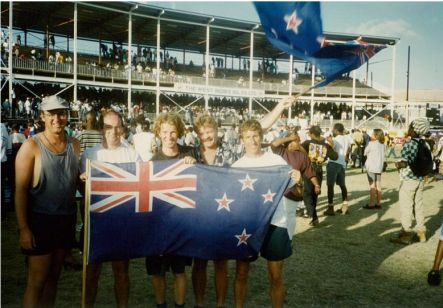 Hamish and Kiwis. April/May '96, West Indies cricket tour. Hamish is in the middle with the beginnings of dreadlocks. Image courtesy of Hamish McDouall,
7:30 The Sampler
A weekly review and analysis of new CD releases.
8:15 Windows on the World
International public radio documentaries - visit the Windows on the World web page to find links to these documentaries.
8:40 The World At Night: The World At Night: Mexico
Reporting from the eleventh most populous country and the most populous Hispanophone country in the world is our correspondent Susana Seijas, pop. 113,423,047 (est. 2010).
9:00 News and Weather
9:06 The Tuesday Feature: Talking Heads 2012 - Paradise Regained
Part 6: Transiting Where? Dr Gareth Morgan and Kim Hill will examine whether New Zealanders' expectations of material wealth can be satiated or is despoiling of our land and environment an inevitable precondition for our priorities to change from consumerism to well-being?
10:00 News and Weather
10:17 Late Edition
A review of the leading news from Morning Report, Nine to Noon, Afternoons and Checkpoint. Also hear the latest news from around the Pacific on Radio New Zealand International's Dateline Pacific.
11:06 Putumayo Radio Hour
A world music show that takes listeners on a weekly journey through the music of many different cultures (Putumayo)