Nights for Tuesday 15 May 2012
7:10 Our Own Odysseys: Grave Digger
A few summers ago while visiting family in the UK, Chris Harris took on some odd jobs to make a bit of cash, like being a furniture removal man, working at Royal Ascot as a barman, but most memorably, there was a spot of grave digging.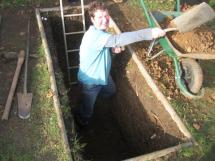 7:30 The Sampler
A weekly review and analysis of new CD releases.
8:15 Windows on the World
International public radio documentaries - visit the Windows on the World web page to find links to these documentaries.
8:40 The World At Night: (Mid-West) United States Of America
Journalist, author and photographer Kerri Fivecoat-Campbell is living her dream life in a 480-square foot cabin within the Ozark Mountains in Arkansas, but near the Mississippi border, USA pop. 311,591,917 (est. 2011)... why gay marriage is still being rejected even in moderate states; the extent of tornado damage; and in the wake of the 'pink slime' debate, Americans are rethinking how and where they get their food.
9:00 News and Weather
9:06 The Tuesday Feature: Voyages in Time and Space
From a series of lectures from 2004 covering the broad themes related to the Transit of Venus - Pacific Voyaging and Navigation by Dr. Peter Adds - Maori studies, Victoria University of Wellington. Introduction by Dr. John Stenhouse.
10:00 News and Weather
10:17 Late Edition
A review of the leading news from Morning Report, Nine to Noon, Afternoons and Checkpoint. Also hear the latest news from around the Pacific on Radio New Zealand International's Dateline Pacific.
11:06 Putumayo Radio Hour
A world music show that takes listeners on a weekly journey through the music of many different cultures (Putumayo)