Nights for Wednesday 21 March 2012
7:10 Soapbox Derby Hibiscus Style
Organiser Terry Clarkson on whether is it true that adults also get to race in this year's Whangaparaoa Rotary Soap Box Derby (pdf) (but how do they fit?!!)...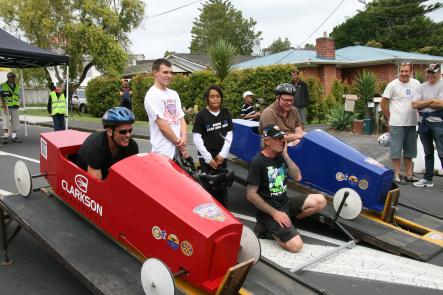 The sponsors racing at Northcote local race.
7:30 Spectrum
People, places and events in New Zealand.
8:00 News & Weather
8:15 Windows on the World
International public radio documentaries - visit the Windows on the World web page to find links to these documentaries.
8:40 Arts: Reggae
Getting the one drop on riddim, rocksteady, ska and roots and culture with deejay and toaster Miles Buckingham... Jamaican R&B, boogie and jazz, in a slow trip towards ska, so roughly 1958 to the early 1960s.
9:00 News & Weather
 9:06 The Wednesday Drama: Faith, by Tom McCrory
10:00 News & Weather
10:17 Late Edition
A review of the leading news from Morning Report, Nine to Noon, Afternoons and Checkpoint. Also hear the latest news from around the Pacific on Radio New Zealand International's Dateline Pacific.
11:00 News & Weather
11:06 Jazz Profiles
Nancy Wilson hosts a music documentary series chronicling the people, places and events in jazz, with a focus on the legends. This week: Jackie McLean (part 1 of 7).