Nights for Tuesday 25 October 2011
7:10 PM.For one memorable summer month, Sandy Myhre decided to see another side of the Mediterranean by travelling as a piece of 'freight' on the large Italian ship Grande Ellande. Audio

8:59 PM.Clue number 1. Audio
7:10 Our Own Odysseys: Freight Passenger
For one memorable summer month, Sandy Myhre decided to see another side of the Mediterranean by travelling as a piece of 'freight' on the large Italian ship Grande Ellande.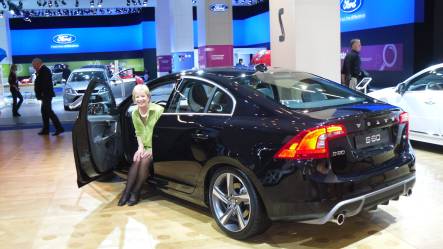 Sandy Myhre at Frankfurt Motor Show in September.
7:30 The Sampler
A weekly review and analysis of new CD releases.
8:15 Windows on the World
International public radio documentaries - visit the Windows on the World web page to find links to these documentaries.
8:40 The World At Night - (Mid) United States Of America
Journalist, author and photographer Kerri Fivecoat-Campbell is living her dream life in a 480-square foot cabin within the Ozark Mountains in Arkansas, but near the Mississippi border... the live turkey drop (from low-flying planes), who will be the Republican nominee for President and the Wall Street protests.
Living Large in Our Little House.
9:00 News and Weather
9:06 The Tuesday Feature
10:00 News and Weather
10:17 Late Edition
A review of the leading news from Morning Report, Nine to Noon, Afternoons and Checkpoint. Also hear the latest news from around the Pacific on Radio New Zealand International's Dateline Pacific.
11:06 Putumayo Radio Hour
A world music show that takes listeners on a weekly journey through the music of many different cultures (Putumayo)