Nights for Monday 17 October 2011
7:15 Unlawful Talk
Jonathon Green, British lexicographer of slang and writer on the history of alternative cultures about his latest book Crooked Talk: Five Hundred Years of the Language of Crime.
8:15 Windows on the World
International public radio documentaries - visit the Windows on the World web page to find links to these documentaries.
8:40 Thinkers: Religion
Exploring religions practised in New Zealand with Professor Paul Morris from Victoria University... could one's dedication/faith/passion to rugby and/or sport be considered a religion?
9 pm News and weather
9:06 Insight
9:40 Sport: Triathlon
Andrea Hewitt is the first New Zealand athlete to be guaranteed a place at the London Olympics with her top ranking in the World Championship series.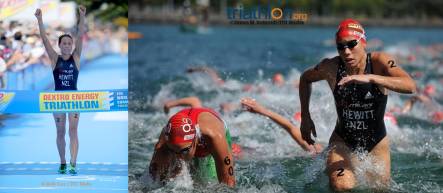 Andrea Hewitt.
10 pm Late Edition
A review of the news from Morning Report, Nine to Noon, Afternoons and Checkpoint. Also hear the latest news from around the Pacific on Radio New Zealand International's Dateline Pacific.
11 pm News and weather
11:06 Beale Street Caravan
The best in blues from the Blues Foundation in Memphis.