Nights for Tuesday 20 September 2011
7:10 Our Own Odysseys: Sendai Volunteer
Christchurch resident Nigel Rushton recently cycled through Japan and took a week to help with the clean-up of another earthquake ravaged region.
Nigel's 2011 Big Japan Bike Ride.
Gallery: Photograph from Sendai.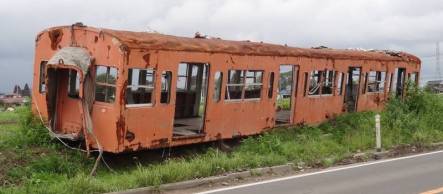 7:30 The Sampler
A weekly review and analysis of new CD releases.
8:15 Windows on the World
International public radio documentaries - visit the Windows on the World web page to find links to these documentaries.
8:40 The World At Night - Japan
Motoko Kakubayashi was raised in Palmerston North but now resides in Tokyo and works for the Science Media Centre of Japan... an update on where everything's at in northern Japan.
9:00 News and Weather
9:06 The Tuesday Feature: Smart Talk 2011
Does rugby make us "kiwis"? – Does it still have the same social impact it did 20 years ago? A spirited discussion chaired by Maggie Barrie, features a panel of experts on the subject: historian Jock Phillips, political scientist Dr Jennifer Curtin and rugby legend and former All Black Grant Fox.
10:00 News and Weather
10:17 Late Edition
A review of the leading news from Morning Report, Nine to Noon, Afternoons and Checkpoint. Also hear the latest news from around the Pacific on Radio New Zealand International's Dateline Pacific.
11:06 One World Many Cultures
Cross cultural collaborations in world music.